Nicasio optioned to make room for Betancourt
Nicasio optioned to make room for Betancourt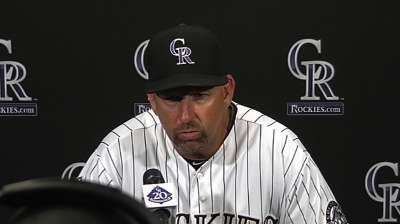 DENVER -- When the Rockies reached a crossroads with right-hander Juan Nicasio, they decided to maintain the path of developing him as a starting pitcher. For Nicasio, that means he must hit the road to Triple-A Colorado Springs.
The Rockies optioned Nicasio on Friday to make room for closer Rafael Betancourt, and will have to make another decision Sunday afternoon, when left-hander Drew Pomeranz is called up from Colorado Springs to start against the Giants.
The Rockies briefly discussed moving the hard-throwing Nicasio (4-4, 5.31 ERA) to the bullpen, where he won't have to face hitters as often and his secondary pitches aren't in play as often. But the Rockies have little starting pitching depth.
"For his development, it's important that he's making starts and maintaining his arm strength," Rockies manager Walt Weiss said. "It's tough to develop starters. It's more beneficial to him and us if he's down there making starts."
Until his last two starts, when he gave up runs early, he displayed a pattern of bordering on domination in early innings, but faltering in the fifth or sixth. He did not throw a pitch in the seventh in any of his 16 starts. Throughout the season, the Rockies have noted that he skipped Triple-A before debuting in 2011 and missed large blocks of 2011 and 2012 because of injuries. Now they've decided to give him the Triple-A experience he missed.
Can the remedial education work? Rockies right-hander Tyler Chatwood would be tripped up at various points of games last season because of command issues and was sent to Colorado Springs to start this season. Now he is 4-1 with a 2.13 ERA. Although Nicasio is bigger than Chatwood, both are considered power pitchers.
Last season, Chatwood wanted to throw harder and faster when in trouble. Nicasio has been going the opposite way. Either way was a path to trouble, pitching coach Jim Wright said.
"His [Nicasio's] pitches are in order, his speed differences are in order, now it's a matter of competing with them," Wright said. "He was trying to do too much with them. Instead of taking the slider he's learned, the harder slider, he was trying to make three or four pitches out of it. Just that one slider where it's supposed to go is going to be good enough.
"He's a power pitcher, and he needs to pitch like that, instead of trying to finesse his way through the lineup. You end up on that emotional rollercoaster, worrying about things you can't control. You're over-conscious. You try to get tricky. You give the hitters too much credit."
Wright said Nicasio, 26, will benefit from completing his assignment in a less-pressured atmosphere. He'll be removed from games if they're going especially bad, but most of the time he'll get 100 pitches to work on his consistency. Wright thinks Nicasio is not far from being ready to pitch again in the Majors.
Thomas Harding is a reporter for MLB.com. Read his blog, Hardball in the Rockies, and follow him on Twitter @harding_at_mlb. This story was not subject to the approval of Major League Baseball or its clubs.