Walker honored with bobblehead, first pitch
Walker honored with bobblehead, first pitch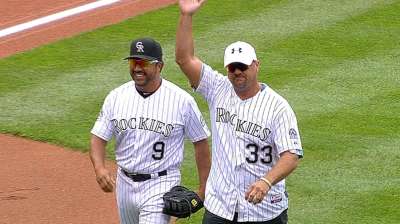 DENVER -- In one of the highlights of the Rockies' 20th anniversary celebration, Larry Walker, the 1997 National League Most Valuable Player and a player considered on the short list of the greatest in club history, was honored before Sunday's game.
Walker signed with the Rockies in 1995, the year Coors Field opened, and stayed until late 2004, when he was traded to the Cardinals and made his only appearance in the World Series. On Sunday, the Rockies invited him to throw the ceremonial first pitch and gave his bobblehead likeness to the first 20,000 fans.
When announced before the first pitch, which he threw to former teammate Vinny Castilla, the stadium played his walkup song -- "Crazy Train" by Ozzy Osbourne -- and fans stood in applause.
Reaching out to Walker is part of a season-long effort, partly sparked by the anniversary celebration and partly because new manager Walt Weiss -- the first former Rockies player to hold the job -- has reached out to stars of the past. Dante Bichette is the hitting coach, Castilla is a special front-office advisor, and the Rockies have had former stars Eric Young and Pedro Astacio serve as guest coaches and instructors.
Walker has worked fantasy camps for the Rockies in recent years, and whether at his home in Florida or the one he has kept in Colorado, he follows the club closely, at times texting broadcasters Drew Goodman and George Frazier during telecasts on Root Sports Rocky Mountain.
"It's different to turn on the TV and see Dante in the dugout," Walker said. "I was in talking to Walt and I told him twice to get out from behind the manager's desk before somebody gets in trouble. He stayed back there. It's hard to believe he's the manager, but he's the perfect guy for it.
"It's special to come back. I played 10 years here, so that's a lot of ballgames, a lot of good things that happened. I think my good outweighs my bad. I'm honored to be back here."
Walker did some instruction with the Cardinals after his career ended, and worked with Team Canada in the World Baseball Classic. Weiss indicated during Spring Training he wouldn't mind having Walker back in the fold with the Rockies. Walker said he would consider coaching somewhere in baseball if the right opportunity presented itself.
Thomas Harding is a reporter for MLB.com. Read his blog, Hardball in the Rockies, and follow him on Twitter @harding_at_mlb. This story was not subject to the approval of Major League Baseball or its clubs.