Rosario credits recent hot streak to his mother
Rosario credits recent hot streak to his mother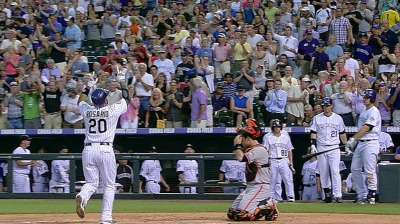 DENVER -- Rockies catcher Wilin Rosario has quietly turned hot, hitting .373 from June 11 through Sunday -- a stretch that saw him hit safely in 14 of his 17 games.
He and the Rockies can thank his mother.
Before the breakout, Rosario's youth coach from the Dominican Republic came to Denver to watch Rosario's swing and offer some encouraging words. But recently, his mom, Crucita Paniagua, and 7-year-old baby brother visited him -- as well as his younger brother, Jario Rosario, a catcher for the Rockies at Rookie-level Grand Junction, and sat him down for a video session.
Turns out his mother, compact, fit and powerful with an easy smile, was quite the softball player in Bonao, Dominican Republic. The crouch and the leg kick that have helped him to a .275 overall batting average, 13 home runs and 41 RBIs? That comes from mom.
"She's my coach," Rosario said, smiling. "She said, 'Don't swing at that first pitch because they're not going to throw you a strike. … When you've got two strikes, just put the ball in play. Don't try to do too much.
"We watch the video together at my house. She said, 'Here! This is what I told you.' And believe it or not, I do much better."
Mom arrived on June 15, and the numbers show it.
Starting that date, Rosario is picking the right first pitches. He is 4-for-7 with a double, a home run and two RBIs. With two strikes he is a respectable .273, and as importantly he has two doubles and two RBIs. He also has worked two walks, to lift his two-strike on-base percentage since his mom's arrival to .333.
Rosario is also producing with two outs, to the tune of a .429 batting average, .500 on-base percentage and .571 slugging percentage. It's nice to have mom in town.
Rosario also has worked on his psyche.
"I cleared my mind, looked in the mirror and talked to myself," Rosario said. "I said, 'What's going to happen?' I said, 'Play hard and things are going to come. You're not going to be like this all year.' That's how I've played."
Ian McCue is an associate reporter for MLB.com.Thomas Harding is a reporter for MLB.com. Read his blog, Hardball in the Rockies, and follow him on Twitter @harding_at_mlb.Jesse Sanchez This story was not subject to the approval of Major League Baseball or its clubs.