With regular time, LeMahieu finding his stride
With regular time, LeMahieu finding his stride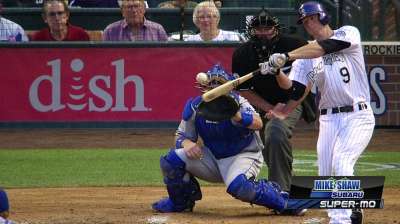 DENVER -- He's acted quietly, but after his first full month in the big leagues this year, DJ LeMahieu is becoming a regular in the Rockies' lineup.
LeMahieu earned his 17th start in 20 games against the Dodgers on Thursday and is hitting .299 with four doubles, a homer and seven RBIs since June 13, the day both shortstop Troy Tulowitzki and center fielder Dexter Fowler first went down with injuries.
LeMahieu, primarily used as a second baseman, also appeared in 81 games for the Rockies a year ago, finishing with a .297 average and 68 hits. After getting the callup from Triple-A Colorado Springs in mid-May, he's starting to find an offensive rhythm in the big leagues.
"Just getting a consistent at-bat helps, I think anyone will tell you that," LeMahieu said. "I think the more at-bats I get, the more comfortable I feel."
Rotating between the top and bottom of the lineup, LeMahieu is just one piece of the puzzle as the Rockies' offense tries to produce without two of its most important bats.
"We miss [Fowler] at the top of that order, that's for sure," LeMahieu said. "We're not trying to replace him or anything, but just trying to contribute while he's gone."
Ian McCue is an associate reporter for MLB.com. This story was not subject to the approval of Major League Baseball or its clubs.