Tulo, Fowler headed for rehab assignments
Tulo, Fowler headed for rehab assignments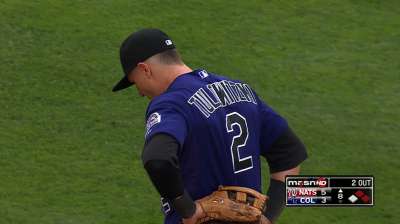 PHOENIX -- The Rockies will send All-Star shortstop Troy Tulowitzki and center fielder Dexter Fowler to Triple-A Colorado Springs for injury rehab assignments that start Monday.
Fowler, who has a right hand injury, is scheduled for seven innings, and Tulowitzki, recovering from a broken rib, will have two at-bats in Monday night's home game against Sacramento.
The Rockies have penciled in Fowler to play the entire game Tuesday if he reports feeling well Monday. They're going day to day with Tulowitzki's schedule. It's not clear if either of them will be back before the All-Star break. Fowler is eligible to return Thursday for the opener of a four-game set at Dodger Stadium. Tulowitzki is eligible to return at any time, but the Rockies don't want to rush him.
"Dexter has been running every day," Rockies head athletic trainer Keith Dugger said. "Tulo was shut down for a little bit because he couldn't run. We have to get his legs back. He's been doing that for 2 1/2, almost three weeks."
If Tulowitzki comes back Thursday, it would be right at four weeks, which was the best-case scenario when the injury occurred. However, Dugger said the Rockies aren't going to push him into the lineup before he's ready.
"That [timetable] is not dictating it," Dugger said. "It's the symptoms and how he feels."
Tulowitzki hasn't played since June 13, when he incurred a rib injury diving for a ground ball. Fowler was hit on the right ring finger with a pitch on the same day. He played on and off until he experienced pain in his right wrist on June 25.
Thomas Harding is a reporter for MLB.com. Read his blog, Hardball in the Rockies, and follow him on Twitter @harding_at_mlb. This story was not subject to the approval of Major League Baseball or its clubs.