Rockies get sparkplug Fowler back
Rockies get sparkplug Fowler back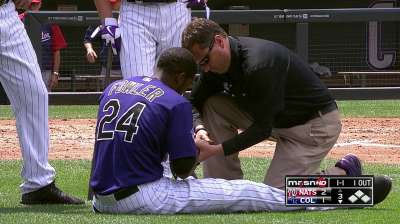 LOS ANGELES -- Rockies center fielder Dexter Fowler was activated off of the 15-day disabled list prior to Thursday night's game at Dodger Stadium, and he returned to his usual place atop the batting order.
"Glad to be back," Fowler said. "You never know what God has for you. You've got to roll with the punches and keep going."
While the Rockies went just 5-9 while Fowler was recovering from a bone bruise in his right hand, he said he doesn't feel any pressure to jump-start the lineup with his return.
"I wanted to be out there more than anybody," Fowler said. "I'm just trying to get back and get on base for those guys, that's my role."
While the Rockies are looking forward to Fowler's offensive contributions -- he is hitting .291 with 10 home runs and 26 RBIs this season -- left fielder Carlos Gonzalez is also looking forward to some defensive familiarity.
"We're used to playing right next to each other all the time," Gonzalez said. "He's a great player, too. He's one of the guys that's going to help this team."
Corey Dickerson was optioned to Triple-A Colorado Spring to make room for Fowler on the 25-man roster. Dickerson hit .212 in 15 games with the Rockies.
William Boor is an associate reporter for MLB.com. This story was not subject to the approval of Major League Baseball or its clubs.