Rockies have running game in high gear
Rockies have running game in high gear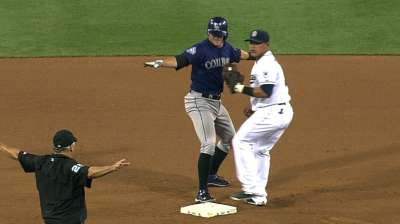 LOS ANGELES -- The Colorado Rockies roster is not filled with an excess of speed, but the club has found ways to steal bases this season.
After stealing 100 bases in 2012, ranking 19th in the Major Leagues, the Rockies entered Saturday's game having stolen 69 bases this season, which ranks fifth in baseball and third in the National League.
"I'm really happy with the baserunning, the basestealing in particular, because we talked so much during Spring Training about looking for opportunities," Rockies manager Walt Weiss said. "When the opportunity presents itself, they're taking it. That's been the biggest key."
Not only are the Rockies seizing the opportunities, but they're succeeding.
When attempting to steal a base, the Rockies have been successful 83.1 percent of the time -- the highest percentage in baseball.
In addition, the Rockies are one of just two teams, along with the Brewers, with three players that have more than 10 stolen bases. Carlos Gonzalez leads the team with 15, Dexter Fowler has swiped 12 bags and DJ LeMahieu has 10.
"It's important to give guys the green light," Weiss said. "That's the only way you can get a feel for stealing bases. If you only steal when you're told to steal, you never develop a feel to do it. Your percentages are always going to be higher if you can pick your spot."
William Boor is an associate reporter for MLB.com. This story was not subject to the approval of Major League Baseball or its clubs.