Oswalt says he's ahead of schedule in rehab
Oswalt says he's ahead of schedule in rehab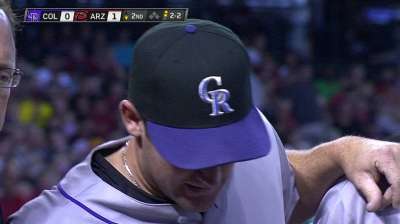 DENVER -- Rockies right-handed pitcher Roy Oswalt believes he is ahead of schedule in his rehab from a left hamstring strain, and he hopes to throw a bullpen session this weekend in Atlanta.
Oswalt suffered the injury while covering the plate after a wild pitch on July 7, and hasn't pitched since. If he does throw the bullpen session in Atlanta, it's still not clear when he would be deemed ready to return to the Rockies' rotation, but it would be a major step.
On Monday, Oswalt did resistance training with weights, increased the pace of his running and played long-toss, using his legs for power. He thought it was a jump in intensity level from his exercise program last week.
"It's going pretty well," Oswalt said. "They're looking at me kind of funny, like it's going too fast. It's not going fast enough for me. I know they don't want to push me until it gets completely healed, but it feels great right now.
"The first time I threw, I was a little leery of putting my legs into it, but, knock on wood, I haven't really felt it the last two or three days. Give me four or five more days of stretching and doing different things, I should be able to throw a pretty decent bullpen."
Like every team in contention, the Rockies -- 3 1/2 games behind the National League West-leading D-backs and three behind the second-place Dodgers -- would like to improve the back of their rotation. That's the reason they signed Oswalt in May, but he went 0-4 with a 7.64 ERA in four starts before the injury.
The Rockies don't like giving up prospects for pitchers who could leave at season's end, and therefore are not expected to make a big trade, but in the past have made under-the-radar deals late in the year. No matter what the club does, Oswalt wants to remain on the Rockies' radar.
"That's part of the game you can't control, just control what you do on the field," Oswalt said. "If you control that, everything else takes care of itself. I want to get back out there. I hate sitting on the sidelines."
Thomas Harding is a reporter for MLB.com. Read his blog, Hardball in the Rockies, and follow him on Twitter @harding_at_mlb. This story was not subject to the approval of Major League Baseball or its clubs.