Rosario takes practice reps at first base
Rosario takes practice reps at first base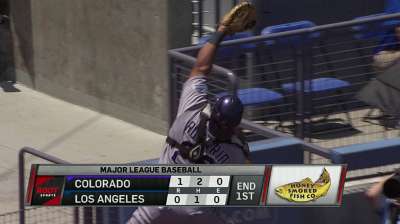 DENVER -- After seeing that he wasn't in the lineup for Wednesday night's game against the Marlins, Rockies catcher Wilin Rosario decided to try something new.
Rosario asked Rockies special instructor Vinny Castilla, who was hitting balls to his son early in the afternoon, to start teaching Rosario how to play first base.
It's not totally far-fetched. In an emergency situation, the Rockies used Rosario at third base in three games for 4 2/3 innings, and he received a start at first last season. Although he made a dazzling play at third during extra innings in one of the games, those experiments were generally rough. But Rosario wants to be ready in case an emergency arises.
"I'd want to be able to play whatever position, in case they need me at some point," Rosario said. "I do it because I like to play every day and want to be able to help my team win. If they need me at some point, maybe they won't be afraid to use me.
"This just started today. I'm not thinking I want to change positions. This was my idea. I had the day off, and I had time."
Not only did Castilla have Rosario and his son work in foul ground on forehand and backhand plays, but he went over footwork on hard-hit balls and the set-up for throwing to other bases.
Thomas Harding is a reporter for MLB.com. Read his blog, Hardball in the Rockies, and follow him on Twitter @harding_at_mlb. This story was not subject to the approval of Major League Baseball or its clubs.