CarGo expects to play with pain through season
CarGo expects to play with pain through season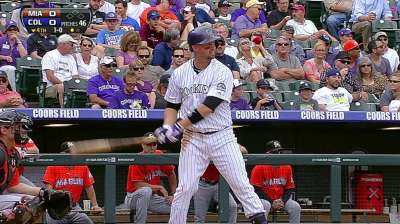 DENVER -- Rockies left fielder Carlos Gonzalez said he expects to play through pain for the remainder of the season after aggravating a middle finger sprain in his right hand in his first at-bat on Thursday.
Gonzalez will sit out for the series opener against the Brewers with the same injury that forced him to miss two games less than three weeks ago. He injured the hand on a swinging strikeout, the same way he suffered the initial injury.
"It's sore," he said before Friday night's game. "I hurt it again, but it's a thing that I'm going to have to deal with probably the whole year. Just something that I need to rest, and I don't think we have time for rest right now."
Manager Walt Weiss and Gonzalez said they don't anticipate it being anything that will put him on the disabled list. The star outfielder said he will continue to prepare each day as if he will play, even if that role is limited to pinch-hitting or entering as a defensive substitution.
The injury comes at an especially difficult time for the Rockies, who are still in the National League West race, but have gone a disappointing 3-4 to open 10-game homestand.
"That's the last thing I want to do, be on the DL and just miss a lot of time," said Gonzalez, who is tied for the NL lead in homers with 26. "I think we have a good opportunity to make a run and be in the postseason. We need to start playing better baseball, and I think that it's within the lineup."
Weiss said Gonzalez is day to day, and that hand injuries can be especially fickle, because one swing can bring back the pain. Trainers have tried different types of tape to minimize the pain, but Gonzalez realizes it will linger for the remainder of the year.
As badly as he wants to help Colorado's scuffling offense, Gonzalez said he will be honest with the Rockies' staff, taking a game or two off when the pain is especially disruptive.
"I knew I was having pain, but I tried to play through it," he said. "I think it's just more important for me when I have day like that, just try to talk to [Weiss] and be honest and be on the bench."
Ian McCue is an associate reporter for MLB.com. This story was not subject to the approval of Major League Baseball or its clubs.