McHugh auditioning for rotation spot in Saturday debut
McHugh auditioning for rotation spot in Saturday debut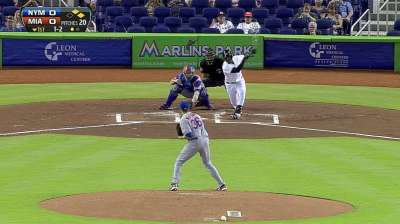 DENVER -- The Rockies are running out of players to fill the fifth spot in their rotation, but Collin McHugh will get his chance to round out the rotation on Saturday.
Former Met McHugh, acquired in the mid-June trade that sent Eric Young Jr. to New York, will get another chance to show he's Major League-ready after spending the better part of his year in the Minor Leagues.
"It feels great," said McHugh, who throws a fastball, curveball, slider and changeup. "That's always nice, when you get that call from the manager, and he's like, 'Hey, they want you up there.' It's good to be able to contribute and feel like you can contribute at this level."
McHugh owns a 10.29 ERA in three appearances with the Mets, two of them in relief and one in a start where he gave up four runs in as many innings.
He's shown steady progress in the Minors, with a 2.87 ERA in nine starts with Triple-A Las Vegas -- the Mets' top affiliate. Since joining Triple-A Colorado Springs, he's 1-0 with a 3.18 ERA over three starts (17 innings).
McHugh will try to become the final piece of a staff that has three starters with ERAs lower than 3.53 entering play Friday -- Tyler Chatwood, Jorge De La Rosa and Jhoulys Chacin. Colorado's fourth starter, Juan Nicasio, has looked like a new pitcher after making a brief stay in Triple-A, allowing just one run over his last three starts.
"Hopefully, just more of the same," McHugh said of what he hopes to bring to the club. "Consistency, hopefully a lot of strikes, do what I do well, which is command the zone, try to get outs, quick outs. Keep the ball on the ground, and give us a chance to win, give us an opportunity for the offense to take it from there."
Rockies manager Walt Weiss said the right-hander will have the opportunity to become a full-time member of the rotation if he can prove he has a big league arm.
"I think he's a guy that can go out there and be efficient, throw strikes and execute a game plan," Weiss said. "I think he's got those type of skills. That's all we're looking for him to do."
Ian McCue is an associate reporter for MLB.com. This story was not subject to the approval of Major League Baseball or its clubs.