CarGo sits for second straight game with finger injury
CarGo sits for second straight game with finger injury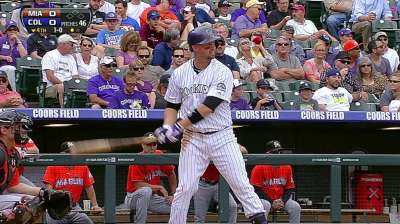 DENVER -- Carlos Gonzalez missed his second straight game Saturday as he continued to deal with the pain of a right middle finger sprain that he aggravated in his first at-bat on Thursday night.
Gonzalez said Friday that he expected to play through the pain and discomfort associated with the sprain for the remainder of the season. He was also confident that it was not serious enough to force him to the disabled list.
Rockies manager Walt Weiss once again said he will exercise caution with Gonzalez's injury.
"It's getting a little better," Weiss said. "I just wanted to make sure that when I throw him out there, he's ready to go, and we could ride him for a while -- want to make sure he's healthy enough that we can do that.
Gonzalez's 26 homers are tied for first in the National League, and he also leads in slugging percentage (.597) and total bases (225). Though the Rockies' offense showed it could produce without its usual No. 3 hitter in an 8-3 win over the Brewers on Friday night, Gonzalez leads the team in RBIs (67), hits (112) and runs (71).
Weiss said he doesn't believe Gonzalez ever fully recovered from the initial injury, suffered on July 7 against the D-backs, which caused him to miss two games.
"I think it's been a factor for a while, ever since he hurt it," Weiss said. "I don't know if it's ever going to completely go away the rest of the season, but hopefully, it will get to the point where it feels good enough to go out there, and he can do his thing. Because even when he's not 100 percent, he's talented enough that he can carry our club.
Ian McCue is an associate reporter for MLB.com. This story was not subject to the approval of Major League Baseball or its clubs.