Recently acquired reliever Boggs sent to Triple-A
Recently acquired reliever Boggs sent to Triple-A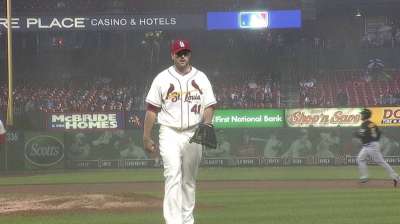 DENVER -- The Rockies sent right-handed reliever Mitchell Boggs to Triple-A Colorado Springs on Saturday to make room for Saturday's starter against the Brewers, Collin McHugh.
Boggs, 29, appeared in just two games with the Rockies after they picked him up in a trade with the Cardinals on July 9 in exchange for an international-signing-bonus slot. He was called up on July 20 after closer Rafael Betancourt went to the disabled list with appendicitis.
Manager Walt Weiss said he chose to send Boggs down rather than infielder Jordan Pacheco or recently recalled outfielder Corey Dickerson due to concerns with outfield depth, since Carlos Gonzalez continues to nurse a right middle finger sprain.
The move leaves the Rockies with seven bullpen arms, but Weiss said the outfield was more of a pressing concern.
"We've been going with the extra pitcher," Weiss said. "But with our outfield situation, we felt like we needed a little more protection there as opposed to pitching right now."
Boggs was a lights-out reliever for the Cardinals last season, boasting a 2.21 ERA in 78 appearances (73 1/3 innings). But he struggled to find success this season, and he was demoted to Triple-A Memphis at the end of May before the Rockies traded for him.
He did not allow a run and gave up one hit over 1 2/3 innings with the Rockies, and Weiss expects Boggs to rejoin the bullpen before season's end.
"More than anything, it was the timing of it," Weiss said. "We like what we see, and we think he's going to be in the mix again for us. We just didn't get to see him a whole lot. It helps that I think he'll go down there, and he'll get some consistent work.
"But it's an arm that we really like. It's a power sinker and a hard slider, and he's got a nice track record up here. He's a guy that's going to be in the mix for us."
Ian McCue is an associate reporter for MLB.com. This story was not subject to the approval of Major League Baseball or its clubs.