In surprise move, Francis called up to join 'pen
In surprise move, Francis called up to join 'pen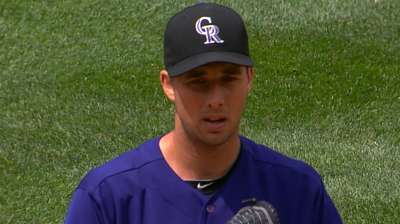 DENVER -- A quiet Sunday morning in the Rockies clubhouse grew much more lively when Jeff Francis walked through the door.
In a surprising move, the Rockies recalled Francis from Triple-A Colorado Springs and sent down starting pitcher Collin McHugh on Sunday. After spending his entire Major League career as a starting pitcher, Francis will join the Rockies bullpen, giving manager Walt Weiss a second left-handed reliever.
Francis, 32, recently moved to the bullpen at Triple-A, and he has made three relief appearances, including a three-inning scoreless outing on Thursday.
"Ultimately, I think they did leave [the decision to move to the bullpen] up to me," Francis said. "But if they think that's best, then it might be a ticket to help this team, and I'm all for it. I've never done it before. It's foreign to me, but I'll do anything I can. I just like to pitch.
"I felt good when I've done it. Nothing has changed. Really, I've been around the [strike] zone for the most part."
Francis was at his Denver home when he received the call on Sunday morning, and he arrived in the Rockies' clubhouse without his gear, which is still in Colorado Springs. Equipped with the arm strength of a starter, Francis has the potential to be a long man.
"Give us a left-hander out there that can go multiple innings, if possible," said manager Walt Weiss. "Could also match him up along with Josh [Outman] -- have another lefty to do that with. So it's good to see him back. He's meant a lot to this club and this organization, so I think everybody's happy to see Jeff back."
Francis struggled in 11 starts with the Rockies this season, posting a 6.58 ERA. He got through the sixth inning in only four outings, and exited before the fifth four times. In his last start with the Rockies, on June 18, he allowed eight runs on 10 hits in six innings, enough for the big league veteran to agree to a Minor League assignment.
"We feel like this may be a good role for him," Weiss said. "Feel like he can get through a big league lineup one time for sure, and put him in situations where he matches up well. He's crafty enough, and we feel like he still has enough stuff to be able to do [that]."
Weiss said he's still sorting out who will start Thursday's game against the Braves in place of McHugh. McHugh gave up six runs in the first three innings in a 7-5 loss to the Brewers on Saturday night, and he is headed back to Colorado Springs after his first career start in a Rockies uniform.
Ian McCue is an associate reporter for MLB.com. This story was not subject to the approval of Major League Baseball or its clubs.