CarGo doesn't think DL stint will help finger
CarGo doesn't think DL stint will help finger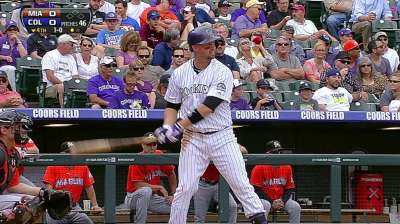 DENVER -- Carlos Gonzalez said Sunday that a stay on the disabled list would likely do little to improve the middle finger sprain in his right hand.
According to Gonzalez, the injury is improving but remains swollen, and doctors told him that 15 straight days of rest might not make a difference. He re-injured the finger on Thursday, leaving the game against the Marlins after the top of the fourth, and has not played since.
"Then they thought about putting me on the DL, and I asked them, 'What if I rest 15 days and come back and feel better?,'" Gonzalez said. "He goes 'No, you go on the DL, you're going to feel the same way.'"
A cortisone shot to ease the pain is also not a possibility because it would weaken the finger tendon and increase the risk of a more serious injury.
Gonzalez said he was surprised to be out of the lineup for the third straight game on Sunday and hopes to return on Monday in the opener of a four-game series against the Braves at Turner Field.
"It's tough, but what can I do?," he said. "It is what it is."
Ian McCue is an associate reporter for MLB.com. This story was not subject to the approval of Major League Baseball or its clubs.