Memories of debut remain fresh for Helton
Memories of debut remain fresh for Helton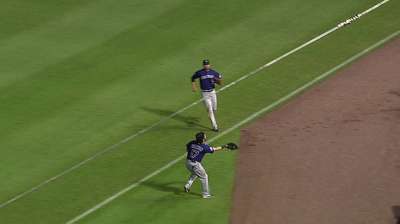 ATLANTA -- One of Todd Helton's favorite memories was Clint Hurdle's face.
Seventeen years ago Thursday, on the eve of his Major League debut, Helton, a first baseman, spent an afternoon in left field while Hurdle, then the Rockies' hitting coach, hit balls to him at Three Rivers Stadium in Pittsburgh. The Rockies wanted to give Helton a taste of the Majors, but Andres Galarraga was still the first baseman.
It was Hurdle's job to prepare Helton to play an unfamiliar position. Helton recalls it not being pretty.
"I could just remember the look on his face, like, 'You have no shot,'" Helton said. "I could see the look of concern in his eyes. I really was not good at it. I still have trouble with fly balls now. That's my weakness. I do not like to catch a pop fly.
"He was trying to be all positive, a 'You'll be fine' type thing. But you know when somebody has that look. He didn't believe what he was saying."
Helton had to catch a line drive from the first Pirates' batter, Tony Womack, in the bottom of the first and, as he said, "made do out there." But offensively, it was the beginning of one of the greatest careers in Rockies history. Helton blooped a single against Francisco Cordova in his second at-bat, walked his next time up, then smoked a full-count changeup from Marc Wilkins over the fence in right-center for his first Major League home run.
"All I know is he threw a 3-2 changeup; he shouldn't have," Helton said, laughing.
Friday, Aug. 2, 2013, will be a full-circle night. The Rockies will play the Pirates at PNC Park, which was built next to the old Three Rivers site. Hurdle, who eventually became Helton's manager with the Rockies, manages the red-hot Pirates. And it almost certainly will be Helton's last trip to the Steel City as a player.
Helton's contract expires at season's end, and it's widely assumed he will retire. Helton, however, has not made an announcement.
But the thrills of Helton's first hit and first homer are still fresh. They came back to him Tuesday night during an 11-3 loss to the Braves. He was at first when Braves callup Todd Cunningham recorded his first Major League hit in the seventh inning off Jeff Francis.
"He gets on first, and it makes me think back," said Helton, 39. "It's like you're walking on water and the bat felt like it weighed zero ounces. I could remember that feeling. It wasn't a matter of whether you were going to get a hit. It was how far you were going to hit it."
Another similarity between Helton's debut and now is the record of the team. After losing that game, the 1997 Rockies dropped to 52-59. They went into Thursday night's game against the Braves 51-58.
"You know what? I was so young I didn't know if the team was down or up," Helton said. "I was excited to be there and kept my mouth shut. That's a really good question. I really don't know, but now I'm fine-tuned with the clubhouse, the emotions, where we're at, all that good stuff."
A stretch in which little has gone right has the Rockies below .500 and Helton, at .257 with seven home runs and 34 RBIs, isn't near the All-Star standards of his past. But through it all, Helton said he feels like a kid.
After playing on and off during the first half of the season, Helton made his seventh straight start on Thursday. And he believes the Rockies have the right effort and approach, despite the results.
"I still love going out there, I really do," Helton said. "Even when I stink, I get just as frustrated with myself and disappointed. But my body feels great. I'm still able to go out there and compete at this age. To me, that's partly a win right there.
"I wish the team was doing better. I wish I was doing better, all those things. But I still really love going out there and playing. I'm absolutely trying to fix it. Nobody's given up or thrown in the towel. That's what you worry about this time of year."
Thomas Harding is a reporter for MLB.com. Read his blog, Hardball in the Rockies, and follow him on Twitter @harding_at_mlb. This story was not subject to the approval of Major League Baseball or its clubs.