Despite numbers, Rox take it slow with prospect Parker
Despite numbers, Rox take it slow with prospect Parker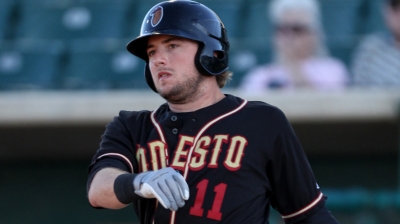 PITTSBURGH -- Kyle Parker, the Rockies' first-round pick in the 2010 First-Year Player Draft, hit his 20th home run at Double-A Tulsa on Saturday, and it's hard not to dream.
Selected as an outfielder, the right-handed-hitting Parker has spent time learning first base this season. Given that any projection of the Rockies' lineup for next year screams for a power-hitting right-handed hitter who can play right field or first base, it's not hard to start projecting. But that's looking too far ahead, as far as Bill Geivett, the Rockies' senior vice president of Major League operations, is concerned.
Geivett said Sunday it's too soon to even explore the idea of giving the 23-year-old Parker a taste of the Majors this year. There's a whole list of free agents and trade possibilities to explore this offseason. All the Rockies are prepared to do is appreciate the development their 10th-ranked prospect and former Clemson quarterback has made this season.
"That's part of the thing, especially coming to the big league level -- you've got to make the club first, before you can worry about playing time," Geivett said. "We want him to have that ability of playing the outfield or playing first base, with the big thing being a right-handed hitter with power -- that's a difficult thing to find. We're happy with his progress. We'll see how it goes from there, but he's someone we're keeping a very close eye on."
In addition to the home runs, Parker entered Sunday batting .278 with 55 RBIs and a .491 slugging percentage. He has a .333 on-base percentage as he continues to work at trimming strikeouts -- 133 in 517 plate appearances at Class A Asheville in 2011, 88 in 463 plate appearances at Class A Advanced Modesto last year, and 69 in 406 plate appearances so far this year.
Parker made his first appearance in big league camp this year, but was a non-factor (1-for-13 with four RBIs, two strikeouts and four walks). The scouting reports from Tulsa indicate that since the Minor League season began, Parker has been working on a thought process that should make him more competitive against higher-level pitching.
"The biggest thing that I like is he's making adjustments to more advanced pitching," Geivett said. "He's facing guys that will throw off-speed pitches behind in the count. He's handling more experienced guys. People tell me he's right on track.
"But the pressure is not on him. You learn that through the years. You can try to have whatever timetable you want for a player, but the player will show when he's ready."
Thomas Harding is a reporter for MLB.com. Read his blog, Hardball in the Rockies, and follow him on Twitter @harding_at_mlb. This story was not subject to the approval of Major League Baseball or its clubs.