After setback, Oswalt progressing again
After setback, Oswalt progressing again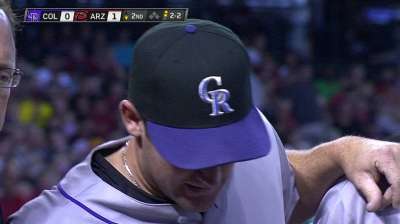 DENVER -- Rockies right-hander Roy Oswalt is taking the slow route back to the mound this time.
Oswalt sustained a left hamstring strain July 7 and seemed to be making startling progress until Aug. 3, when the hamstring tightened on him during his first simulated game. Oswalt backed off on his routine, but he has started playing catch and is hoping to resume bullpen sessions this weekend and play a simulated game next week.
If all goes well, Oswalt could build himself enough to come off the disabled list and return to the mound before season's end.
"I thought I was going to defy the odds and do something nobody else has ever done," Oswalt said with a smile. "But the good thing is I didn't push it to the point where I reinjured it like it was the first time. When it started cramping, it was more protection than anything.
"I've never been on the DL this long. I've been on the DL a couple times, but 15-day stuff. It's funny. You hear different things like, 'He gets hurt a lot.' The fewest things I ever started in the big leagues [in a full season] was 30, except for one year, when I tore my groin three different times."
Last year with the Rangers and this year with the Rockies, Oswalt missed Spring Training while awaiting a suitable contract offer. This year, he did not have an opportunity to pitch as a starter until the Rockies called after the season started. If Oswalt returns to the mound, he could have the chance to entice the Rockies to make an offer for next year.
"We haven't talked yet," Oswalt said. "I like the part of getting to work with these young guys and trying to pass on some of the stuff I learned from some of the guys that were around before me. I'm getting to see what these guys do, and maybe I can help them."
Ian McCue is an associate reporter for MLB.com. Thomas Harding is a reporter for MLB.com. Read his blog, Hardball in the Rockies, and follow him on Twitter @harding_at_mlb. This story was not subject to the approval of Major League Baseball or its clubs.