Nicasio learning to battle through tough times
Nicasio learning to battle through tough times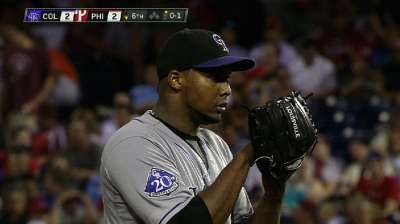 PHILADELPHIA -- In the case of Rockies right-hander Juan Nicasio, the numbers don't lie.
Nicasio worked 5 2/3 innings -- allowing two runs (one earned) on seven hits on Wednesday night in Colorado's 4-3 loss to the Phillies in which he received a no-decision. The difference between Nicasio now and earlier this year, before he was sent down to Triple-A Colorado Springs, was in full display at Citizens Bank Park.
In a game that could have gotten away from the young righty, Nicasio fought through several tough innings and did what every starter wants to: he kept the Rockies in the game.
"It wasn't easy, but he only gave up two runs," manager Walt Weiss said. "He gave us a chance to win and that's what we talk about with our starters. That's what he did. I tried to get him through that sixth inning, but he got a couple runners on and I went and got him.
"He's been better. He's stayed away from that big inning that was getting him the first time he was up. We've definitely seen some growth since he's been back."
Before Nicasio was sent down on June 25, he went 4-4 in 16 games with a 5.31 ERA, while opponents hit .271 off of him. Over 81 1/3 innings, he struck out 56 and allowed 89 hits.
By comparison, since his return July 12, Nicasio has gone 3-2 with a 3.83 ERA and has held opponents to a .241 average. He's still allowed over one hit per inning pitched, but his 32 strikeouts in eight games is an improvement.
"With nobody out [and the bases loaded in the fifth inning on Wednesday], I tried to keep the ball down and make it one run and I'd be fine," Nicasio said. "I made it through. It's my location of my fastball that has made the difference."
For the 26-year-old, that ability to locate has aided his confidence, which in turn has led to a maturity on the mound that has allowed Nicasio to better attack situations and not have the type of innings that plagued him in the first half of this season.
Michael Radano is a contributor to MLB.com. This story was not subject to the approval of Major League Baseball or its clubs.