Betancourt exits due to sprained right elbow
Betancourt exits due to sprained right elbow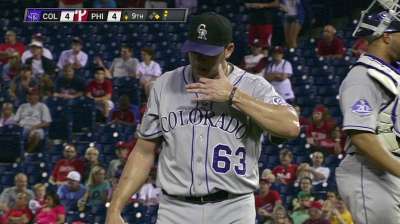 PHILADELPHIA -- Rockies closer Rafael Betancourt felt something in his right elbow and exited amid a 5-4 loss to the Phillies on Thursday night. The club announced after the game that Betancourt has a sprained right elbow and he will have an MRI on Monday.
Betancourt left with two outs and the game tied at 4 in the ninth after he surrendered a game-tying infield single by Michael Young. Betancourt blew his second save in as many nights after he blew just one save in his first 17 chances this season.
Betancourt has battled the injury bug all season. The veteran closer sustained a groin injury and was placed on the 15-day disabled list on June 1. On July 20, he returned to the DL after a bout with appendicitis.
"You come out of the game, it's usually not good," manager Walt Weiss said. "He felt something in his elbow.
"He didn't mention anything about it [before the game]. Raffy has been great in the closer role. He's dealt with a couple of injuries, but he's a warrior."
Michael Radano is a contributor to MLB.com. This story was not subject to the approval of Major League Baseball or its clubs.