Brothers has mixed emotions about new role
Brothers has mixed emotions about new role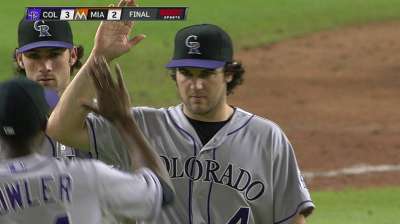 MIAMI -- Rex Brothers had mixed emotions as he stood in front of his locker at Marlins Park before Friday night's game.
Brothers is looking forward to the opportunity to assume the role of closer again, but the Rockies' left-hander also feels bad that he's been given that chance because of an injury to Rafael Betancourt.
Brothers looked comfortable in the Rockies' 3-2 win over the Marlins on Friday, pitching a 1-2-3 inning with two strikeouts for his 12th save in 13 chances.
"It won't be the same," Brothers said of the veteran Betancourt's absence in the bullpen. "He's meant a lot to me ever since I've been here. Hopefully, he can rejoin us soon. It's tough not seeing him down there. He sits in the same spot every day, and it's definitely not the same without him, just the small stuff and conversations I have with him."
Right-handed reliever Matt Belisle expressed similar sentiments about a bullpen without Betancourt.
"It crushes me," Belisle said of Betancourt's latest injury. "He's been such a close friend and mentor to me for so long. It just wasn't good yesterday. Losing him, with all the hardships he's had already is what's really tough. I'm feeling more for him than feeling what it is for us. He's sort of been the quintessential veteran. The guy's been doing it for a long time. He's a good teammate, the ultimate competitor and a true professional."
Belisle said that Betancourt has handled his latest setback like a true pro.
"It's a hard blow. It was so tough yesterday, but right now he's got smiles and saying, 'Hey, it's like my job, whatever happened yesterday, turn the page.' But deep down, I know it's really getting him," Belisle said.
Brothers, who has filled the closer's role before, said his approach basically will be the same as when he enters a game in the seventh or eighth inning.
"It's not a tremendous adjustment," Brothers said. "It's the same basic principles, competing in the strike zone and not getting yourself in trouble. Your team has played eight innings in front of you, so you want to come in there and put the game in the book as quickly as possible. I enjoy it, I do. I like to be out there and compete no matter when it is, but that [ninth] inning, there's something about it."
Steve Dorsey is a contributor to MLB.com. This story was not subject to the approval of Major League Baseball or its clubs.