Chatwood, Oswalt could return this week
Chatwood, Oswalt could return this week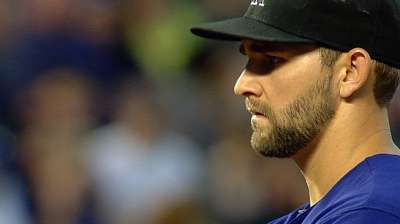 DENVER -- The Rockies' starting rotation should soon reflect its early-season self, as Tyler Chatwood and Roy Oswalt both get closer to stepping back onto a big league mound.
Chatwood will make a rehab start with Triple-A Colorado Springs on Tuesday and plans to throw 70 to 75 pitches. Manager Walt Weiss is optimistic that Chatwood will need just the one start in the Minor Leagues, meaning he could be pitching for the Rockies this weekend.
"We're hoping for one [start]," Weiss said. "A lot of these things, you play it by ear and see what happens and how he responds to his next outing. ... But best-case scenario is he goes out there, makes one start and then he's back in the rotation with us if all things go well."
Chatwood, 23, has proven a force in the Rockies' rotation, allowing two runs or fewer in 12 of 15 starts and leading the starting five with a 3.15 ERA. The club placed the right-hander on the 15-day disabled list Aug. 7 with right elbow inflammation, a week after he gave up 10 hits and eight runs (seven earned) in only 2 1/3 innings against the Braves.
Oswalt plans to throw another simulated game at Coors Field on Tuesday after he threw three innings in his first sim game Thursday. Oswalt is set to pitch four innings Tuesday in what he hopes is the last tuneup he will need.
"His bullpen was much better in Miami, so he's making some nice strides, too," Weiss said.
Oswalt (0-4, 7.64 ERA) made just four starts for the Rockies before he strained his left hamstring as he ran to cover home plate July 7.
Ian McCue is an associate reporter for MLB.com. This story was not subject to the approval of Major League Baseball or its clubs.