Parker among eight Rox prospects headed to AFL
Parker among eight Rox prospects headed to AFL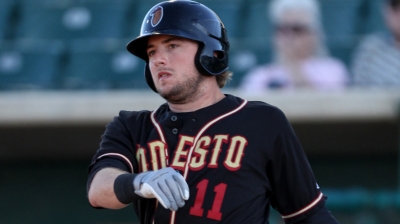 DENVER -- Eight Rockies prospects will suit up for the Salt River Rafters in the Arizona Fall League, the club announced Tuesday.
Four pitchers, two infielders, an outfielder and a catcher will represent the Rockies for a team that also includes players from the D-backs, Cardinals, Rays and Blue Jays.
Two starting pitchers from Double-A Tulsa will join the Rafters in left-hander Tyler Matzek, rated the Rockies' No. 14 prospect by MLB.com, and righty Dan Houston. Matzek, a first-round selection in the 2009 First-Year Player Draft completing his first year at the Double-A level, is 8-9 with a 3.60 ERA in 25 starts. Houston is 4-6 with a 3.36 ERA with Tulsa, spending time as a starter and reliever.
The Rockies' two other pitchers will jump from High A Modesto to the Arizona Fall League. Lefty Tyler Anderson, a first-round pick in the 2011 draft and ranked No. 5 in Colorado system, is 3-2 with a 3.41 ERA after spending the early part of the year with Low A Tri-City.
Left-handed reliever Kraig Sitton, 25, has a 2.94 ERA in 49 games, an improvement from his 3.08 ERA in 2012, his first year with Modesto.
Perhaps the biggest name among the position players is Tulsa's Kyle Parker, the Rockies' No. 9 prospect. Parker, a first-round choice in 2010 chosen as an outfielder, has been spending more time at first base this season and posted impressive offensive numbers.
In 117 games, Parker has hit .283 with 23 home runs, 71 RBIs and 21 doubles in his first year at the Double-A level.
Tim Wheeler, the team's No. 10 prospect, will be Colorado's lone representative in the Rafters outfield, the 25-year-old finishing his second season with Triple-A Colorado Springs. Wheeler has hit .262 with four homers, 40 RBIs and 12 stolen bases in 2013, two years after he exploded onto the scene when he hit 33 homers with Double-A Tulsa.
Shortstop Cristhian Adames, rated No. 16, will be Colorado's youngest representative in the Arizona Fall League.
Adames, a 22-year-old Dominican product, has hit .269 and driven in 35 runs with 18 doubles and three homers with Double-A Tulsa. Those numbers aren't far behind what he posted the previous year with High A Modesto, a positive sign that his talent can eventually carry over to the big leagues.
Tulsa catcher Dustin Garneau rounds out the organization's players in the Arizona Fall League. Garneau has shown some power at Double-A, knocking 12 homers and driving home 43 runs while hitting .232 and slugging .411.
Ian McCue is an associate reporter for MLB.com. This story was not subject to the approval of Major League Baseball or its clubs.