Cain expresses deep admiration for Helton
Cain expresses deep admiration for Helton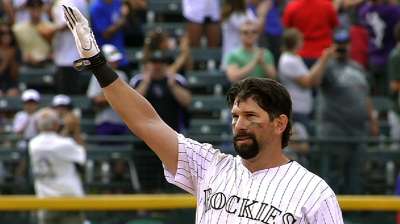 SAN FRANCISCO -- Todd Helton's Colorado Rockies home jersey hangs in Matt Cain's dressing stall in the Giants clubhouse. It's more than just a collector's item, more than just a memento.
It's a symbol of the enduring respect Cain has for Helton, the Rockies first baseman who's likely making his final AT&T Park appearance as an active player during this series. Helton, who didn't start Monday's series opener, entered the game with a .317 batting average and 2,503 hits in 17 years. He has announced that this season probably will be his last.
"I enjoy playing against him," Cain said. "It's been fun. It's been a challenge, but I think that's the enjoyable part -- facing somebody like Todd who's a Hall of Fame[-caliber] guy."
Indeed, Cain and Helton are inextricably linked. On Aug. 29, 2005, the 20-year-old Cain made his Major League debut against the Rockies. Cain pitched respectably in a 2-1 loss, allowing three hits and both Rockies runs in five innings. But what really distinguished his performance was his 14-pitch confrontation in the fifth inning against Helton, the last batter he faced. Helton fouled off numerous pitches before Cain won the battle, inducing a fly to deep left-center field.
"I remember that like it was yesterday," Cain said. "I don't remember every pitch, but I remember throwing everything I had at him and he was putting good wood on everything. I think the worst pitch I made probably was the last one. I think it was down the middle. A fastball. Luckily he just missed it."
Helton has accumulated 71 plate appearances against Cain, more than any other active pitcher the left-handed batter has faced. The results: a .200 batting average (12-for-60), with three homers, six RBIs and six strikeouts.
To Cain, Helton's professionalism transcends statistics.
"I think that's what you always appreciate about guys," Cain said. "He was one of the guys I looked up to. Playing against him, you see the way he goes about his work. He doesn't show guys up. He goes about it in a professional way. He does everything with class, the way you're supposed to do it."
Thomas Harding is a reporter for MLB.com. Read his blog, Hardball in the Rockies, and follow him on Twitter @harding_at_mlb. Chris Haft is a reporter for MLB.com. This story was not subject to the approval of Major League Baseball or its clubs.