Skipper likes Arenado's aggressive defense
Skipper likes Arenado's aggressive defense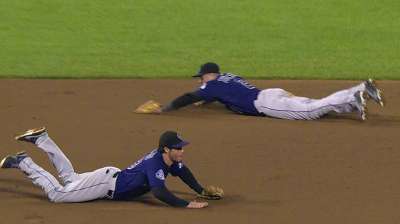 SAN FRANCISCO -- Rockies rookie third baseman Nolan Arenado committed his 11th error when he barehanded an eighth-inning roller off Angel Pagan's bat and threw wildly to first base in a 3-2 loss to the Giants on Monday night.
Arenado has received buzz for the Rawlings Gold Glove Award -- an honor no rookie third baseman has ever won. The error was his third in the last seven games. He has a .971 fielding percentage for the season. But manager Walt Weiss believes the willingness to take risks, even if it leads to an error, is a plus, not a minus.
"I don't want to squelch his ability or his confidence in finishing plays," Weiss said. "One of the things I like about Nolan is he'll try to finish some really difficult plays. He'll figure out where that line is. He's got a good feel for the game.
"He does it because he's got the ability to do it. He's done it before. We've seen him make some unbelievable plays that were similar to last night, where you think he doesn't have a shot but he somehow pulls it off. I'd rather a guy err on the side of trying to finish plays like that."
Arenado's highlight package is full of plays he has made, but Weiss, a daring fielder in his day, said he is even more impressed by one he didn't make.
"I can appreciate it, because I've done it; it's a big part of Nolan's game," Weiss said. "One of the best plays he made this year was a play he didn't finish, in Houston. He went far to his left to try to do a 360 and throw the guy out at the plate. We didn't get the out and I think he threw the ball away, but it said a lot to me that a young kid was willing to put his neck out there and try to finish a play like that."
Thomas Harding is a reporter for MLB.com. Read his blog, Hardball in the Rockies, and follow him on Twitter @harding_at_mlb. This story was not subject to the approval of Major League Baseball or its clubs.