Feeling good, Corpas getting on a roll
Feeling good, Corpas getting on a roll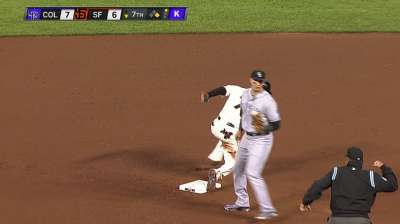 SAN FRANCISCO -- Rockies right-handed reliever Manuel Corpas is experiencing a pain-free and strong arm this season, for the first time as a professional.
Even in his best days, as closer on the 2007 team that went to the World Series, Corpas spent the time not pitching trying to hide how bad he felt.
"I didn't want to say anything because we were in the playoffs and going to the World Series," Corpas said. "I was happy, so why would I say anything? Every time I pitched, it would swell. I was taking Advil, Tylenol, everything."
It wasn't new. After he signed with the Rockies out of Panama in 1999, the Rockies trying to convince him to have Tommy John surgery -- and him refusing -- was an annual event. He didn't want to delay getting to the Majors.
Corpas finally underwent the surgery in 2009. It wasn't until last year that he re-established himself as a Major Leaguer, going 0-2 with a 5.01 ERA in 48 appearances. This year he is 1-2, 4.00 in 24 appearances with the Rockies and has done his best pitching recently -- six straight scoreless outings covering five innings.
"Now my arm is finally good -- no pain -- and I'm working hard every day," said Corpas, 30. "Last year, it felt OK but it wasn't really strong. I had the command but my arm wasn't 100 percent. Now I think it's 120 percent. I don't throw really hard -- 91, 92 mph -- but it's much better."
Corpas rejoined the Rockies under a Minor League contract, began the year at Triple-A Colorado Springs and has been sent down twice, in a couple of instances just because of roster situations. But his work of late has demonstrated he may be a keeper. Manager Walt Weiss likes Corpas' versatility. Nine of his last 17 appearances have been two innings or longer, but his current run of success has consisted entirely of one or fewer innings in tight, late situations.
"He's got a lot of big, high-pressure outs and performed in a lot of high-pressure innings during the course of his career," Weiss said. "We felt that slow heartbeat has meshed with some of our youth. All those intangible things he brings, along with his performance."
Corpas hopes to return next season in any role.
"I'm just glad when they give me the opportunity, so it's no big deal," Corpas said. "I don't worry about trying to take somebody's job. I want to help where the manager wants me."
Thomas Harding is a reporter for MLB.com. Read his blog, Hardball in the Rockies, and follow him on Twitter @harding_at_mlb. This story was not subject to the approval of Major League Baseball or its clubs.