Helton reflects on successful 17-year career
Helton reflects on successful 17-year career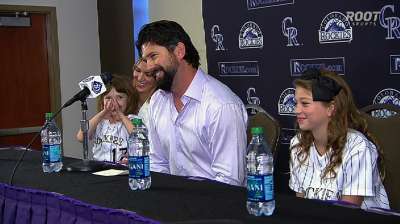 DENVER -- Behind the beard and a stern look of concentration, Rockies iconic first baseman Todd Helton was a guy fans had a hard time getting a read on, which could make him hard to get to know. At his formal press conference at a Coors Field suite on Monday to announce his pending retirement, Helton displayed raw, genuine emotion -- and a dry sense of humor.
And there you have him. In saying goodbye, he was exactly as you thought he was through his 17-year career, which will come to an end with the final game of this season. He's the guy who played through pain and played covered in pine tar and infield dust, played like a champion in good and bad years for the franchise, and showed sharp wit in interviews and quirky commercials.
Flanked by his wife, Christy, and daughters Tierney Faith, who turns 11 later this month, and Gentry Grace, 4, Helton spoke about his career and thanked those visible and behind the scenes, and thanked fans for the support.
"What will I miss the most?" Helton said. "I'll miss the competition. I'll miss the anticipation of walking out of the tunnel and seeing the fans, and getting ready to play the game. That's going to be the toughest part to me.
"You hear all the time, 'Why didn't you smile more out there on the field? Why didn't you show more emotion?' Because I was out there trying my hardest. To me, when you're out there trying your hardest, it's hard to smile all the time. But let me tell you, I was enjoying myself. I was enjoying every minute that I spent out there."
Helton choked up briefly.
"I'm going to miss walking out of the tunnel at night, walking past Charlotte [Johnson, who is in charge of the gate through which the players leave], saying goodnight, trying to figure out how I'm going to get a hit the next day or how we're going to win a game the next day," he said. "To me, that's going to be the hardest.
"The fans of Colorado, I'd like to thank them. I'd like to think that I've been the model of consistency, but ya'll have been the model of consistency for me. I don't know how those girls stand out there and hold that sign every time I come up."
No discussion of Helton's career is complete without his placing on various all-time lists, and when a guy's career qualifies for lofty all-time comparisons, the Hall of Fame becomes the next subject. The era in which he played, Coors Field, his battling injuries for years will be weighed against the many categories in which he is right with honored players.
"Obviously, it's an honor to be mentioned in that conversation," said Helton, who went 1-for-4 in Monday's 6-2 win over the Cardinals and has 367 career home runs and a .317 lifetime batting average. "That's for a later date."
Helton ended the question-and-answer session on a witty note, when he was asked if there was anything he wanted to accomplish in the season's final two weeks.
"I'd like to hit about 40 more homers," he said, with a smile.
Thomas Harding is a reporter for MLB.com. Read his blog, Hardball in the Rockies, and follow him on Twitter @harding_at_mlb. This story was not subject to the approval of Major League Baseball or its clubs.