Gonzalez's finger to be examined -- again
Gonzalez's finger to be examined -- again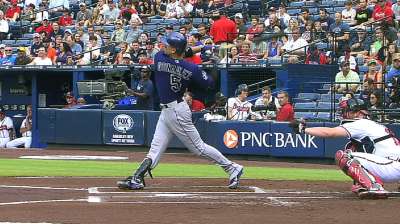 DENVER -- Rockies outfielder Carlos Gonzalez said he has lost count of the number of doctors that he has seen about his sprained middle finger. But head athletic trainer Keith Dugger has kept count, and the number will rise to eight when he goes to Cleveland on Thursday.
"I'm getting sick and tired of seeing doctors, hearing the same thing," Gonzalez said. "Who knows? Maybe he'll say the same things the other ones said, but I hear he's one of the best ones."
The exams are beginning to lead Gonzalez toward surgery to correct the injury, which occurred in July.
Gonzalez tried to play through it until Aug. 4. He has made a few appearances recently as pinch-runner or defensive replacement -- including Monday's 6-2 win over the Cardinals when he entered in the eighth inning to play left field and was pinch-hit for when his turn in the lineup came up -- but he hasn't swung a bat in practice or a game and probably won't before the season ends.
Gonzalez saw Dr. Don Sheridan, a Phoenix specialist, who did the initial exam when he suffered the injury on July 7 against the D-backs. Although surgery is avoided in these cases because the finger joint usually permanently loses flexibility, Sheridan said it's an option because the condition hasn't improved through rest. The injury generally heals in 6-8 weeks, but since he stopped playing Gonzalez hasn't seen much improvement. He suffered a setback after playing two injury rehab games at Triple-A Colorado Springs in late August.
Dugger, who has arranged the various doctor visits, said the actual diagnosis of a sprain -- or slight tear -- of a ligament is unchanged. The reason surgery came up in the talk with Sheridan was the condition hasn't improved through the rest that is normally prescribed.
"The bottom line is CarGo will have to make the ultimate decision," Dugger said. "I do know one thing: The finger will become stiff and he won't have full range of motion after surgery. But we've been told they believe he'll be able to hold the bat with good strength."
With surgery, he would spend 6-8 weeks in a splint, then need another 6-8 weeks rehab, and would be prohibited from swinging a bat until December. The good news is without a setback, he would be fine for next spring.
"If I wait and it doesn't get better, I lose all that time," Gonzalez said. "I'm thinking about next year, getting ready for baseball."
Thomas Harding is a reporter for MLB.com. Read his blog, Hardball in the Rockies, and follow him on Twitter @harding_at_mlb. This story was not subject to the approval of Major League Baseball or its clubs.