Fowler still having trouble with lateral movement
Fowler still having trouble with lateral movement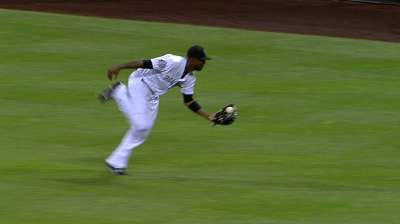 DENVER -- When Dexter Fowler twisted his left knee sliding into second on Aug. 26, it seemed like an injury that wouldn't keep him out for more than a few days.
However, Rockies manager Walt Weiss said that the center fielder's side-to-side movement is still an issue. Fowler has made just three starts since suffering the injury. The most recent was on Sept. 6, and he was replaced in the bottom of the sixth.
"It hasn't changed a whole lot," Weiss said. "I think he's getting better, but to make a start and go out there for nine innings and be able to run left and right and run the bases -- still not there yet."
Though the injury makes it tough for him to man the spacious Coors Field outfield, Fowler can still contribute as a pinch-hitter. He has two hits in five such appearances after he struck out in the sixth inning of Friday's 9-4 victory over the D-backs, and Weiss will continue to use him in that role.
"That's probably the one way we can use him," he said. "That's why I've been firing early as pinch-hitter at times, because it's not a guy we're going to use defensively late in the game with that type of thing. So it's a bullet you can fire early if you have an opportunity to."
Ian McCue is an associate reporter for MLB.com. This story was not subject to the approval of Major League Baseball or its clubs.