Francis gets nod for Rockies' season finale
Francis gets nod for Rockies' season finale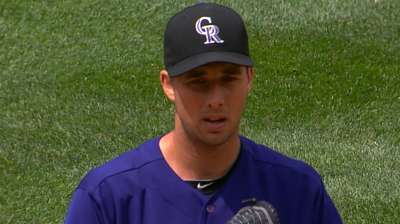 LOS ANGELES -- Left-hander Jeff Francis believes his rough 2013 season is likely his last with the Rockies, but he is being given an opportunity to author his own goodbye.
The Rockies will start Francis (2-5, 6.61 ERA in 22 appearances, 11 starts) in Sunday's season finale against the Dodgers.
"I certainly like it a lot," said Francis, 32. "Starting is what I've always done and it's where I want to be. I'm certainly honored that they gave me the opportunity.
"I don't really want to speculate but I would think my time as a Rockie is probably closing."
The Rockies selected Francis in the first round of the 2002 First-Year Player Draft. He grew into Colorado's No. 1 starter during the magical 2007 season, in which he won 17 regular-season games and two in the postseason and started Game 1 of the World Series. With the exception of spending 2010 with the Royals and beginning 2011 with the Reds in Triple-A, Francis has been a Rockies player.
The start is in the place of righty Tyler Chatwood, who is dealing with right elbow soreness. Sunday will be Francis' first start since June 18 at Toronto.
"We were looking for a starter, and I think it makes sense," Rockies manager Walt Weiss said. "Jeff has certainly earned that. He's done so much for this organization, for this franchise, over the course of his career. I felt this was the right thing to do."
Francis' 63 career wins for the Rockies are second only to Aaron Cook's 72. Weiss said there is a chance Francis could be brought back next year. Realistically, it would be under a Minor League contract if at all, and after his less-than-stellar 2013, there is little chance another team would sign him to a Major League deal.
Wherever it is, Francis will be trying to add to his personal wins total next season.
"At the big league level, probably not to start, but I'll give everything I have," Francis said. "But I know if I can make an opportunity for myself, that's great. It's going to be up to me."
Thomas Harding is a reporter for MLB.com. Read his blog, Hardball in the Rockies, and follow him on Twitter @harding_at_mlb. This story was not subject to the approval of Major League Baseball or its clubs.