Lyles determined in his first Rockies camp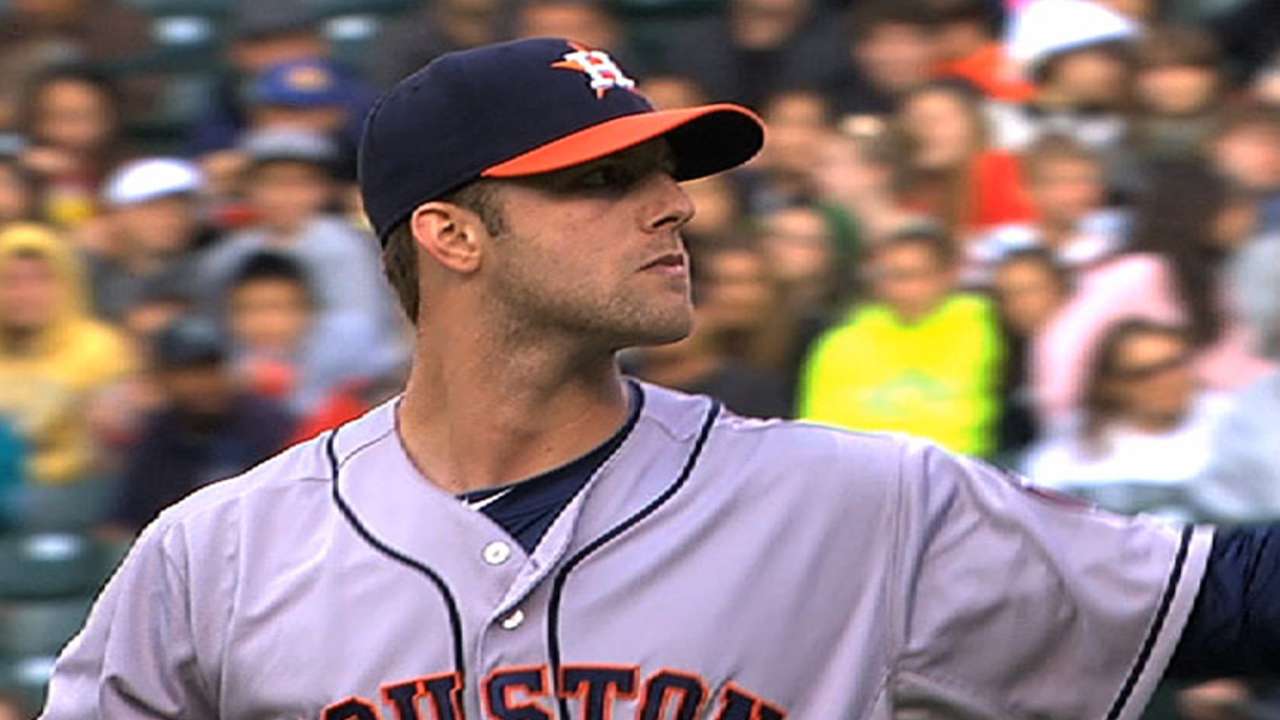 SCOTTSDALE, Ariz. -- It was nothing against Jordan Lyles, but Rockies fans did a double-take. The team had traded popular center fielder Dexter Fowler in exchange for a right-hander who is 14-29 with a 5.59 ERA in three seasons.
But the number that might trump all that is 23, Lyles' age. Lyles enters the competition for a rotation spot eager to show what he has learned while pitching for a team that has struggled in recent years.
"I'm sure the fans weren't too happy looking at numbers," Lyles said. "Those were a tough couple of years in Houston. They're at a certain stage where they're trying to go and they made a move they thought was best for their team, and so did the Rockies.
"I've got enough innings in the Major Leagues to know what's going on. I'm looking to take the next step forward and put all the tools that I have together."
The Rockies like Lyles' ability to force ground balls, and they hope he can pull his talents together in the same manner as righty Tyler Chatwood, who pitched for the Angels in 2011 and now is seen as a key member of the Rockies' rotation at 24.
Lyles, a supplemental first-round pick in 2008 out of Hartsville (S.C.) High School, must determine how to avoid the big inning.
"The stat line is not going to show how well you pitched -- it's just going to show that big number at the end of your outing," Lyles said. "I've got to stay away from that.
"It's a positive thing to have new scenery, be around a lot of different guys, hear from a lot of different pitching coaches, pitching minds. I've really just got to bear down and focus and make that next pitch. When you need that ground ball, go get it. When you need that punchout, you've got to have it."
Lyles is one of several challengers for fifth starter Juan Nicasio's spot. Lefty Franklin Morales, who began his career as a Colorado starter but has been a Red Sox reliever in recent years, and lefty Christian Friedrich, a onetime No. 1 pick of the Rockies, are candidates with more familiarity for the organization and the fans. Lyles is driven to make a name for himself in his first Rockies camp.
"I don't think there's one guy in this clubhouse that's going to be happy with going down to Triple-A or Double-A," Lyles said. "It's definitely not going to be me. There's a chip there. I haven't had a good last couple of years. I've got to come into the spring, put up numbers and earn a spot. That's what I'm going to try to do."
Thomas Harding is a reporter for MLB.com. Follow him on Twitter @harding_at_mlb. This story was not subject to the approval of Major League Baseball or its clubs.