Rockies eager to see how Herrera develops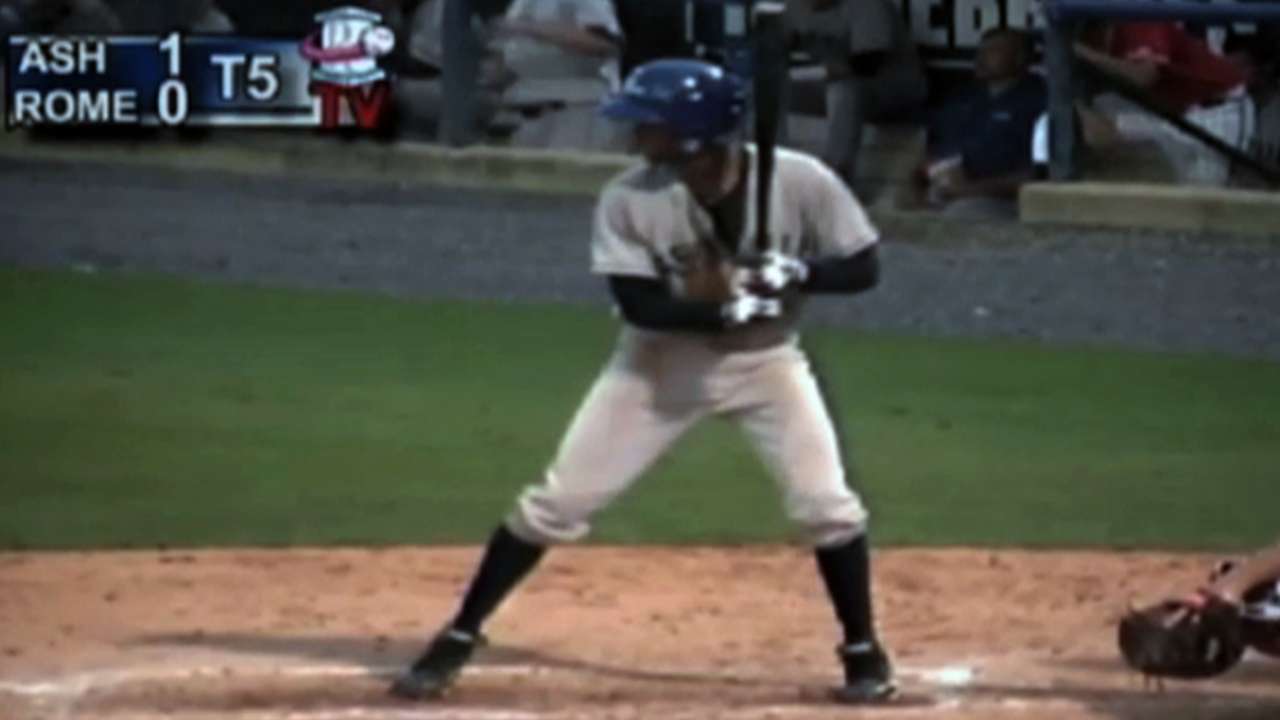 SCOTTSDALE, Ariz. -- The Rockies are trying to piece together their leadoff plan for 2014. But the future may be in a young, stringbean of a switch-hitter, Rosell Herrera.
Last season, Herrera, 21, led the South Atlantic League in batting with a .343 average, and he posted career highs with 16 home runs, 76 RBIs, a .419 on-base percentage and 21 stolen bases. The performance earned him a spot on the 40-man Major League roster and a look during Spring Training.
Seeing him, though, is an exercise in projecting. He is 6-foot-3 and listed at 190 pounds, which seems generous. Also, Herrera plays shortstop. His eventual position and his skills will most likely depend on how his body develops. He has played briefly at third base, and in Instructional ball last year, the Rockies had him in the outfield. Some project a center-field future.
"Everybody's waiting for him to grow fully into his man's body," Rockies player development director Jeff Bridich said. "How much good and natural weight and strength he puts on still remains to be seen.
"I would be very surprised if, with his athleticism, bat speed and hand-eye coordination -- especially from the left side -- anything changed with his power. Foot speed is something else. There's basestealing technique and aggressiveness that we will continue to instill in him and all of our players. But where the foot speed goes based on whatever his final man's body is, and whatever that becomes, that's just kind of a wait and see."
But there's plenty the Rockies can see now.
"That he is relaxed and that he is allowing his natural ability, natural athleticism to come out in a Major League setting," Bridich said. "After that, it's just hoping he settles in and is confident when he's playing and truly believes that he can play and compete with the level of athlete, the level of baseball player that's in Major League camp."
Herrera's strategy is to do whatever the Rockies ask with effort and joy.
"I go to the plate every time aggressive," Herrera said. "I don't think, 'home run.' Every time when I'm at the plate, I want to hit the ball hard. When I'm on the base, I want to be aggressive -- run aggressive. That's what I've got.
"This is a very good, a great place. It's very good for me because I want to be here. I want to work hard here. It's very good for me."
Some of the maturity Herrera offers comes from facing difficulties. In 2012, he hit .202 in 63 games at Asheville and was sent to short-season Class A Tri-City. Herrera, from Santo Domingo, Dominican Republic, came back last season and put the rough year in the past.
"That stumbling block and those challenges provided some growth areas," Bridich said. "He had to overcome some adversity, really the first time that he had struggled on a baseball diamond before. He's grown so much in his ability and his confidence, and his ability to speak the English language has grown immensely over the last year. All that comes together."
Thomas Harding is a reporter for MLB.com. Follow him on Twitter @harding_at_mlb. This story was not subject to the approval of Major League Baseball or its clubs.