Pacheco prepares for season with new outlook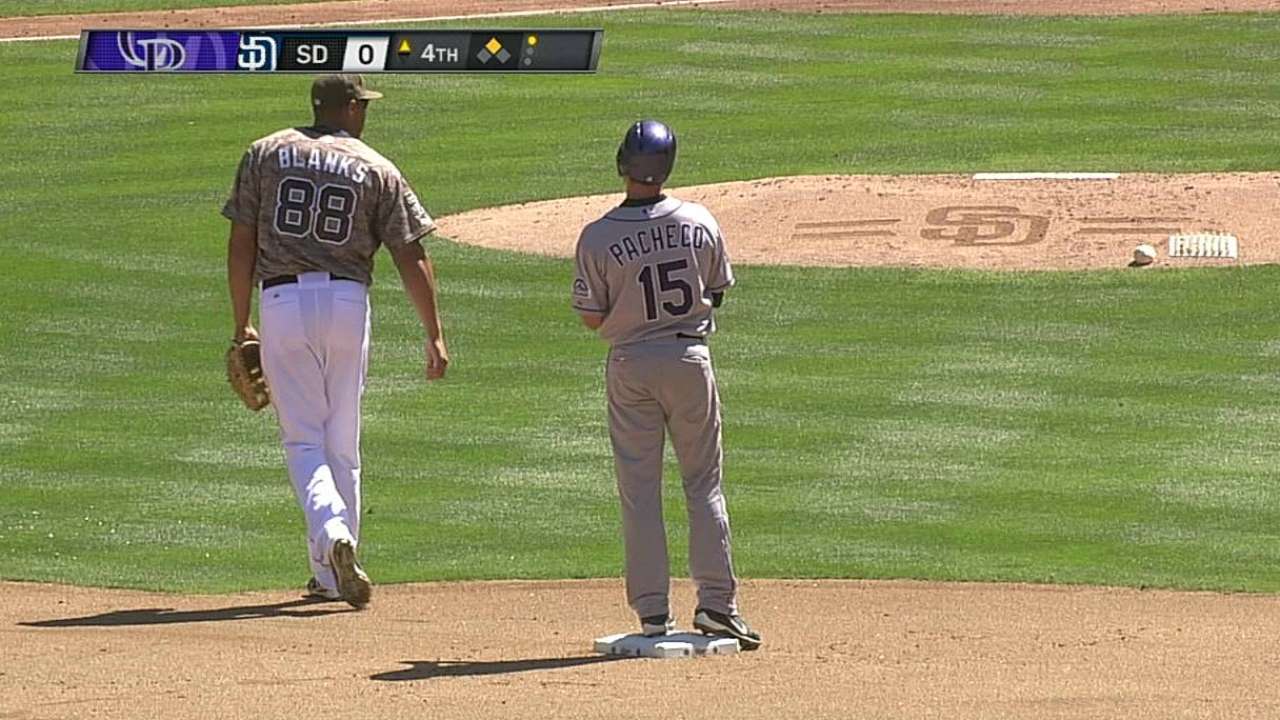 SCOTTSDALE, Ariz. -- Rockies catcher Jordan Pacheco doesn't go along with the theory that the irregularity, and at times the absence, of playing time destroyed his numbers last season.
In 2012, Pacheco led Major League rookies with a .309 batting average in 475 at-bats while playing third and first base. But last year as mostly the backup at first, with Todd Helton playing regularly in his farewell campaign, Pacheco hit .239 in just 247 at-bats.
"I didn't do a good job last year to help the team in the role I was in," Pacheco said. "When you know you can do something and you don't do it, it hacks you off.
"You want to be comfortable out there, but at this level, you have to learn how to be comfortably uncomfortable. LaTroy [Hawkins, a Rockies veteran reliever] said that the other day, and he's right. Once you learn how to deal with that, everything changes."
During the season, the Rockies sent Pacheco to Triple-A Colorado Springs to return to catcher -- his Minor League position. Now Pacheco figures to have regular at-bats behind Wilin Rosario. With the Rockies wanting to preserve Rosario's health because of his power bat, there will most likely be playing opportunities when Rosario is serving as the designated hitter or even the first baseman on occasion.
"It was tough when the at-bats were sporadic last year," Rockies manager Walt Weiss said. It's tough to keep your numbers pretty when you're in that role, and then you try to make up for lost time when you do get in there. But we haven't lost any confidence in Jordan as a hitter."
Additionally, Pacheco is considered a strong receiver and could enter in place of Rosario when the Rockies need defense behind the plate late in tight games. Pacheco is a strong game-caller, because he is able to discern the comfort level of his pitcher, veer from the scouting report when necessary and go where the game leads him.
"I do feel confident in the pitcher-catcher relationship," Pacheco said. "A lot of guys like to throw certain pitches when they're not feeling good and certain pitches when they're feeling good. If you can figure that out before they step on the mound, it makes it a lot easier.
"The information, the scouting reports we get, those are just suggestions. Once you get into a game, you're dealing with a competitor."
Thomas Harding is a reporter for MLB.com. Follow him on Twitter @harding_at_mlb. This story was not subject to the approval of Major League Baseball or its clubs.