His left knee stable, Nicasio seeking return to form
Rockies right-hander endured up-and-down season in '13 after knee surgery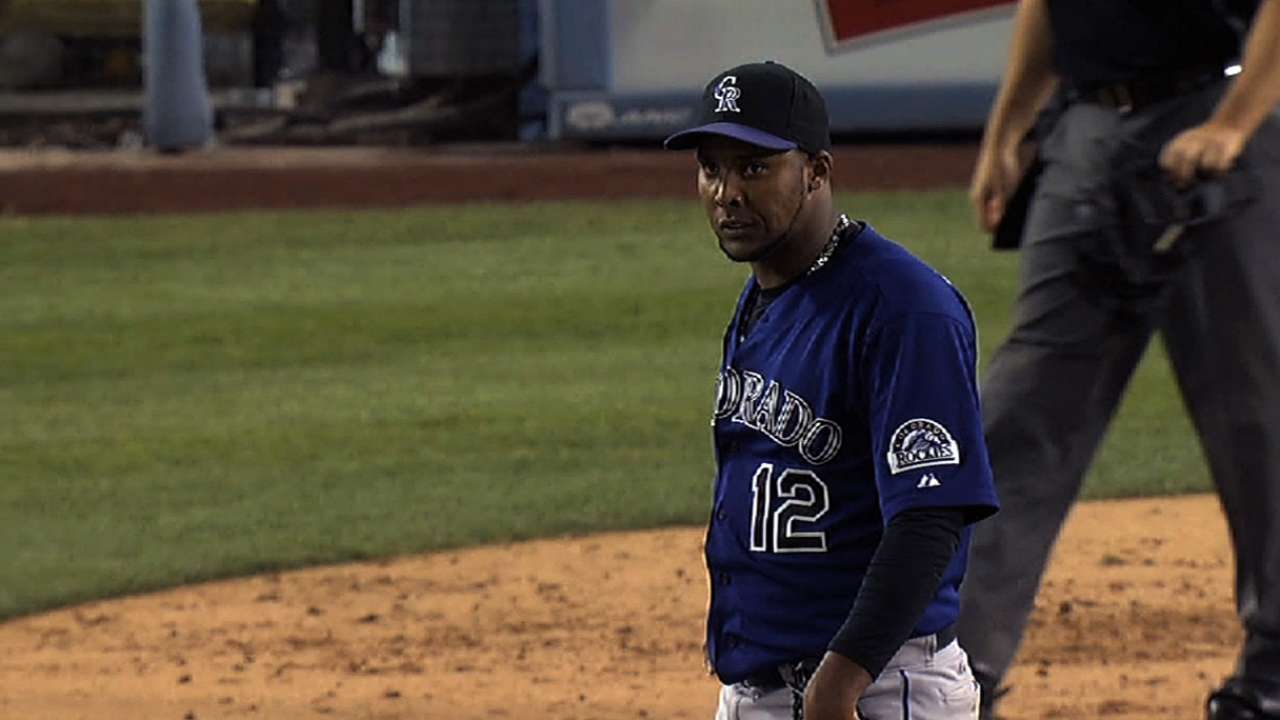 SCOTTSDALE, Ariz. -- Rockies right-hander Juan Nicasio didn't have time last year to assess whether he still has fear from being hit in the face with a line drive and suffering a broken neck in 2011. His knee hurt too much to think about his face.
Nicasio was hit by a line drive from the Nationals' Ian Desmond in 2011, and in 2012 he made just 11 starts before suffering a season-ending knee injury. That was not sufficient. Last year, Nicasio was an inconsistent 9-9 with a 5.14 ERA in 30 starts. Even more, Nicasio wasn't extending his pitching arm toward the plate sufficiently on his follow through.
Last year's performance left open the question whether Nicasio was truly past the line drive incident, which could have been tragic if not for quick work on the field and on the operating table. Nicasio, who will start Tuesday's Cactus League game against the Giants at Salt River Fields at Talking Stick, hopes to prove a more stable knee means more forceful mechanics and a return to the effective fastball he displayed when he was first called up in 2011.
Nicasio's contention has a factual basis. The left is the landing leg when a right-hander throws to the plate, so it bears the pitcher's weight.
"I feel comfortable because now my knee is good and I can follow the ball and get extension," Nicasio said. "It was more the knee. When you're hurt, you stay back."
Nicasio had surgery on the knee late in the 2012 season, then spent the winter rehabbing, which took time from conditioning. The season was a grind that included a brief demotion to Triple-A Colorado Springs. But a year's end, he rested, then went through proper conditioning. During winter ball in the Dominican Republic, Nicasio reported throwing his fastball at 97-98 mph.
If he can throw the pitch with location and command, he will be able to fend off several challengers for his rotation spot. The secondary pitches are not at the level of his fastball, but more heat and downward action on the fastball enhances any secondary pitch.
The Rockies are working with Nicasio to have him in good fielding position at the end of his delivery. He just has to end up that way without pulling off pitches and losing force and command.
"It's hard to stay straight and throw more than 95 mph, but I'm working so I can be a better pitcher," said Nicasio, who pitched at around 248 pounds last year, but wants to stay in the 235-240 range this season.
Rockies pitching coach Jim Wright said Nicasio has a chance to achieve what he wants, which is hard, downward action toward his glove side.
"He pulled off a lot because of his knee, but now it's a lot stronger," Wright said. "He can hold his finish. But he couldn't hold his finish as long, and he'd end up to the side of the ball. The perfect finish is all your energy going through the catcher, not away from the catcher."
Thomas Harding is a reporter for MLB.com. Follow him on Twitter @harding_at_mlb. This story was not subject to the approval of Major League Baseball or its clubs.