McKenry working on thwarting basestealers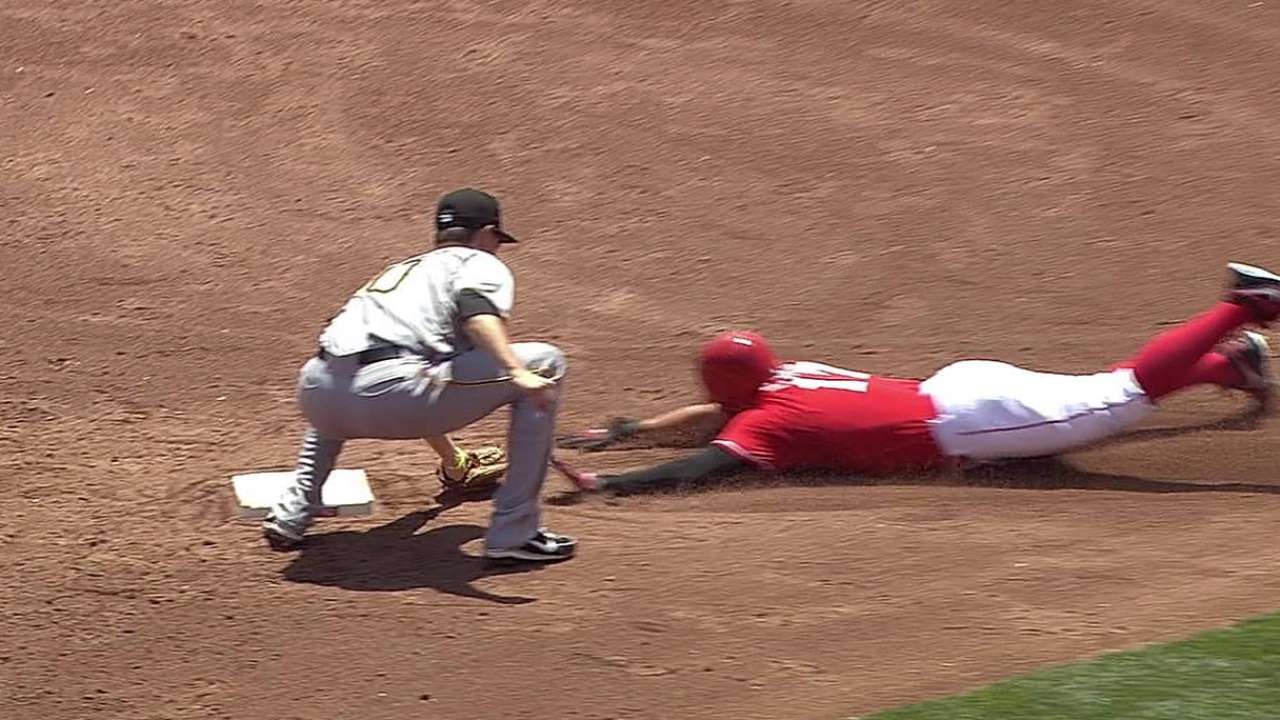 SCOTTSDALE, Ariz. -- Rockies catcher Michael McKenry believes in his ability to stop runners from stealing bases, even if the numbers glare in the other direction.
McKenry, in Rockies camp under a Minor League contract, threw out 19 percent of runners attempting to steal (32 of 167) in the last three seasons with the Pirates. As a comparison, in Monday's 8-1 loss to the Mariners, McKenry started and gave up three stolen bases, but one was on a double-steal so he made just two throws.
It looks as if he'll have more chances early in camp. McKenry caught Monday because Jordan Pacheco, the projected backup for Wilin Rosario, has shoulder pain and will not swing the bat for a couple of days.
But McKenry, who turned 29 Tuesday, hasn't always struggled. Originally drafted by the Rockies in 2006, McKenry earned his debut with the club in 2010 by throwing out 23 of 80 (29 percent) at Triple-A Colorado Springs.
"It's mechanical -- there have been a couple of things I've been doing the last couple of years that put me in bad spots," McKenry said. "When I was here the first time, I threw really well and even led all of baseball one year.
"It's keeping it simple. I play hard. I've got to throw hard. Sometimes we get a little out of sync and try to do more than we're capable of, or maybe you do something a way somebody is trying to teach you. I've been a little over-coachable at times when it comes to catching and throwing. I'm a good thrower. I have to believe that."
McKenry also is coming off surgery on his left knee. Camp has been an exercise in passing rehab milestones.
"I feel very sure," McKenry said. "It took some time when I first got here. I could still feel the scar tissue and I'd get the occasional scar tissue pop. I can feel that joint space.
"I started out with Knee Savers [the product catchers wear on the backs of their legs to alleviate pressure]. They're gone. Blocking is pretty much back to normal. Throwing is coming along. Early along, I got a lot of scar tissue planting on that foot, but it's better and I'm not as hesitant."
Thomas Harding is a reporter for MLB.com. Follow him on Twitter @harding_at_mlb. This story was not subject to the approval of Major League Baseball or its clubs.