Dickerson solidifying chances at roster spot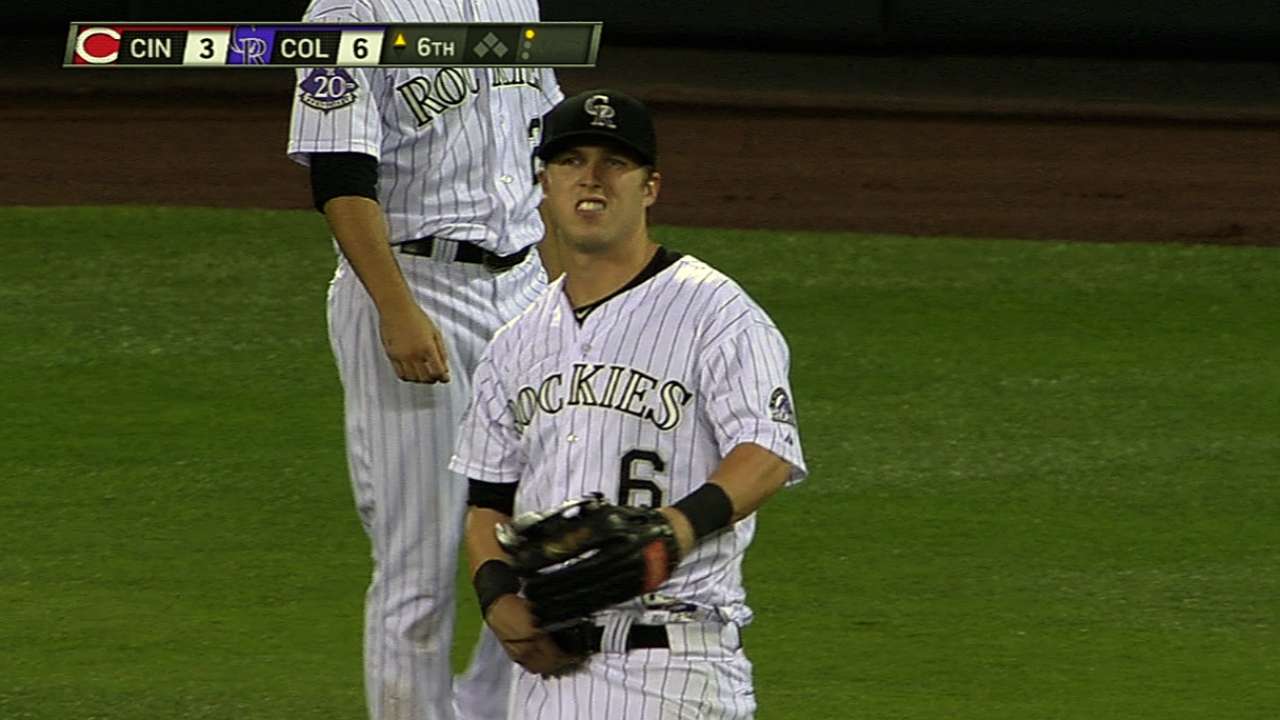 SCOTTSDALE, Ariz. -- Rockies outfield hopeful Corey Dickerson made his candidacy for a roster spot and starts more serious Saturday, when he made his first start in center field.
Dickerson, a corner outfielder by trade, has had an impressive offensive spring -- .371 after Saturday's 2-for-4 game during a 4-4 tie with the Angels. But with Carlos Gonzalez and Michael Cuddyer set in the corners, center is where the available playing time is.
Dickerson had seen nine innings in center this spring, but has spent hours shagging flies in center during batting practice and in extra work with first-base coach Eric Young, who works with outfielders defensively.
"I feel pretty comfortable out there, the confidence I have out there is high," Dickerson said.
Saturday didn't offer much in terms of drama. There was a rocket from Chris Iannetta that bounced off the warning track for a ground-rule double, but no one would have had that one. Dickerson had to cover some ground to grab Kole Calhoun's fly in the third.
The competition -- right-handed hitters Drew Stubbs (who started in right Saturday) and Brandon Barnes, and left-handed hitter Charlie Blackmon -- all are center fielders with above-average range, well-above average in Stubbs' case. Dickerson played some in center last year and believes he plays it well enough to start games there.
The decision will likely be between Dickerson and Blackmon, the lefty hitters. Whatever choice will be made will probably be made late in camp.
Manager Walt Weiss has called center a defensive position. The area is expansive at Coors Field, but it's not easy on the road in the National League West. The area is large at Dodger Stadium and Petco Park, and tricky at Chase Field and AT&T Park.
Dickerson noted that Gonzalez, a three-time Rawlings Gold Glove Award winner, and Cuddyer help because of their range and experience.
"It's a defensive position, but if you make all the routine plays, your bat has a big play," Dickerson said. "You need offense. You need run support. That's what I bring to the table. If you have All-Star outfielders beside you, they'll take a lot of balls, too. The routine plays just have to be played."
Weiss used Dickerson in center 15 times, 12 as a starter, last season.
"The times he's been out there he's handled himself just fine," Weiss said. "I don't think he's going to have any problem covering ground. He runs well. He can put balls away out there. I think he is serviceable."
Thomas Harding is a reporter for MLB.com. Follow him on Twitter @harding_at_mlb. This story was not subject to the approval of Major League Baseball or its clubs.