Prospects Butler, Gray depart with minds full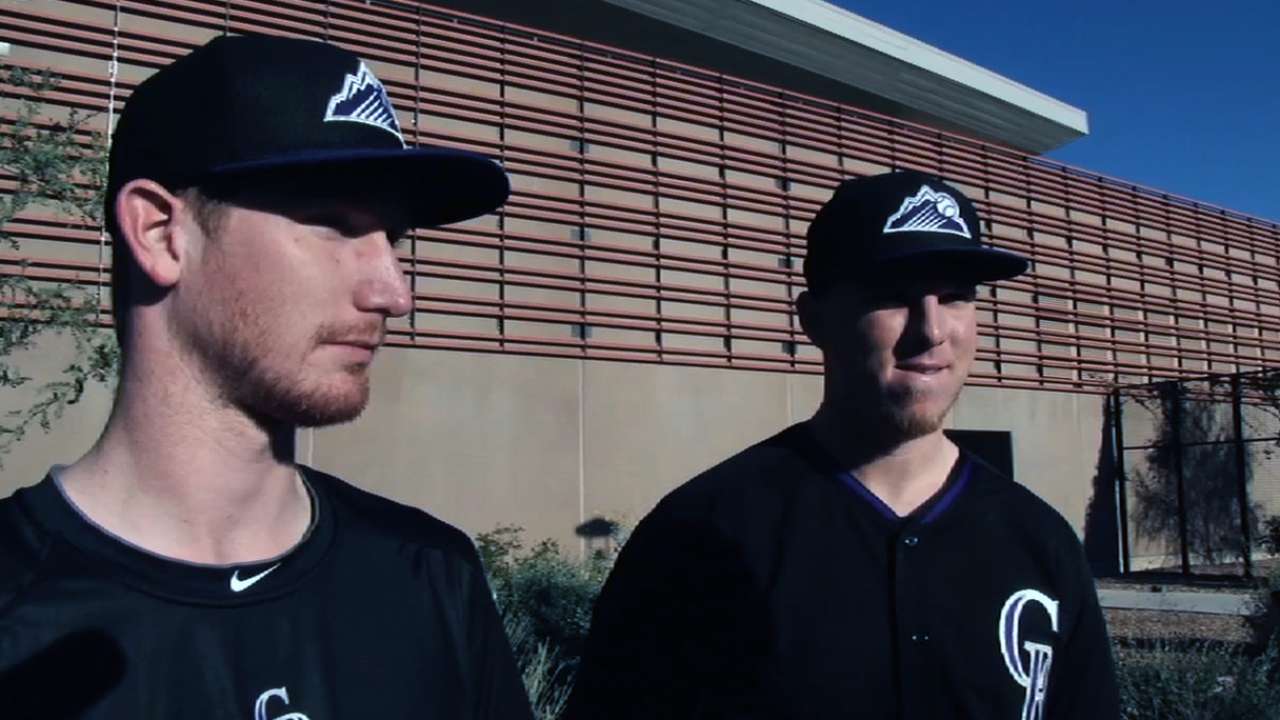 SCOTTSDALE, Ariz. -- Rockies top pitching prospects Eddie Butler and Jon Gray demonstrated the high-end talent that has the club excited. Now they must apply what they learned in Major League camp so they can help the big club sooner than later.
On Saturday morning, the club informed Butler, a supplemental first-round choice in 2012, and Gray, the third overall pick last summer, that they'll be moved to Minor League camp.
The two had extended appearances in relief in the Cactus League -- Butler had a 3.86 ERA in seven innings, Gray a 5.40 mark in 6 2/3 innings -- but with veterans needing the innings, the Rockies will have Butler and Gray start Minor League games. Expected to start the season at Double-A Tulsa, they did nothing in camp to discourage folks from believing they could help the Major League club this season.
Butler said the key is going to the Minors with the right work ethic.
"I held my own up here, but there are some things that I need to work on that will make me an even better pitcher up here," said Butler, who said he learned to streamline his strategy by grouping hitters into categories, and that he needs to sharpen his fastball command down and away. "But for me, it's not looking to the future, but taking it literally what's in front of me today.
"You can't go down there dreaming about this, or you're going to lose touch with what you're doing, and next thing you know you're having a bad year with no shot of being up here. Focus on what you're doing."
Butler had a Rockies organization-leading 1.80 combined ERA in 28 starts at Asheville (low Class A), Modesto (Class A Advanced) and Tulsa, and Gray posted a 1.93 ERA in his nine starts at Grand Junction (Rookie) and Modesto. Both had impressive performances, but also hit bumps in the Majors.
Gray said his toughest performance -- reaching 99 mph with his fastball during his first inning but leaving the mound having yielded five hits and three runs in 2 2/3 innings against the Athletics on Thursday night -- might prove to be his best experience.
"People say you learn more from failure, and that's exactly how I feel," Gray said. "The first couple of times, I had a lot of success sticking to the game plan, getting a lot of ground balls by staying down in the zone.
"But last time, I was feeling really good, and I was trying to blow it by people. Now I know what I need to work on, and that game gave me a really good idea. I've got a plan. It's all about knowing when to use my fastball. I've got to control my aggression."
Gray said his education will continue. The Rockies emphasize pitching low in the zone, but Gray's ability to eclipse 100 mph with consistency when he's in midseason form allows him to go higher in the zone. He'll have to find the right times. He'll also have to control his arm speed and release so hitters aren't tipped off on his changeup.
"I've got to pretend like every time I throw there, I'm throwing here," Gray said. "I've got to continue to learn. I'll find out what things work and what things don't work, find out different ways to win and cross off things that lead to losses."
It's no small point that the two were given a chance to mesh with the Rockies' veterans. When they're called upon, the team knows what it is getting on and off the field.
"The big thing I accomplished here was fitting in with the group," Butler said. "I found my place here and showed them that I'm ready mentally. Game-wise, I threw pretty well, gave up some hits, gave up some runs, which happens. But I also learned some things."
Thomas Harding is a reporter for MLB.com. Follow him on Twitter @harding_at_mlb. This story was not subject to the approval of Major League Baseball or its clubs.