Stubbs hopes to show hitting versatility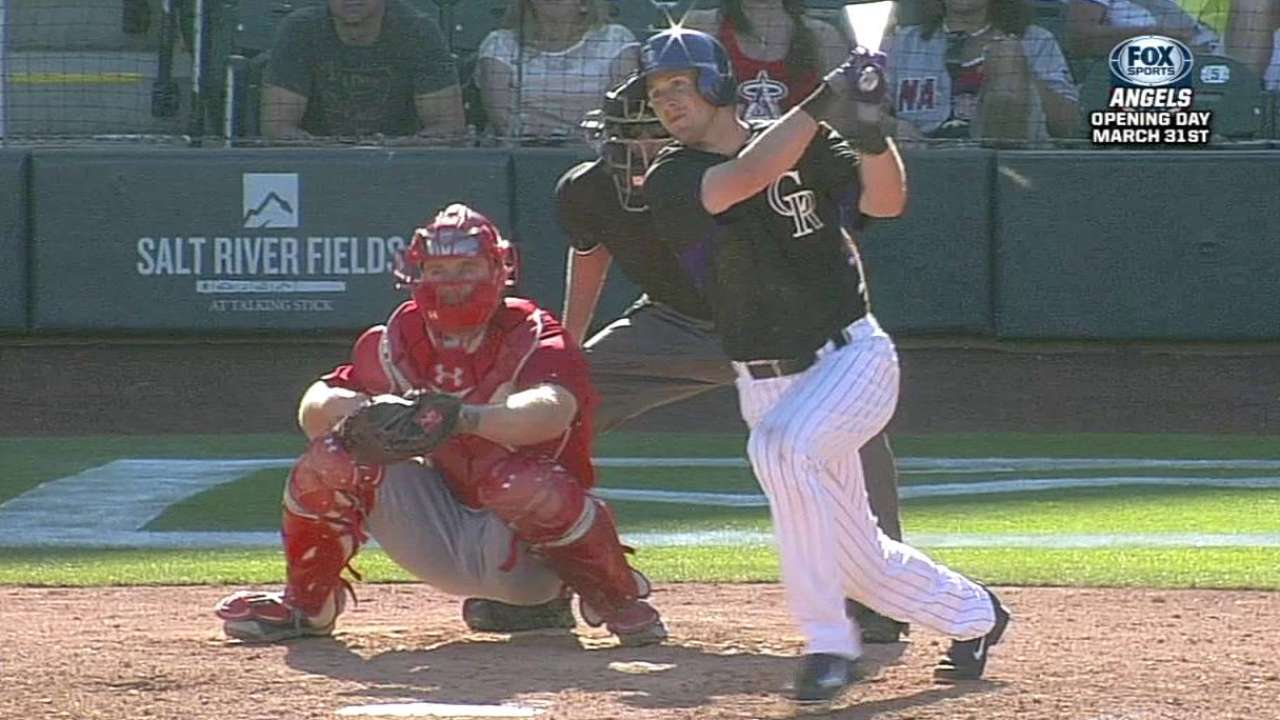 SCOTTSDALE, Ariz. -- The numbers say there are times for center fielder Drew Stubbs to be in the Rockies' starting lineup and times to sit him, and there are better places for him in the batting order than the top. But Stubbs is challenging himself to break from a cramped statistical box.
The Rockies have let Stubbs face whomever happens to be on the mound and have batted him first a healthy number of times. Stubbs, whom the Rockies acquired from the Indians for lefty relief pitcher Josh Outman, was not in the lineup Wednesday night against the Cubs and righty Carlos Villanueva, but facing whomever, hitting wherever in the order, he has a .323 batting average and .400 on-base percentage in 10 Cactus League games. His last three hits were off righties -- doubles off Angels pitchers Jered Weaver and Yoslan Herrera on Saturday and a single off the Padres' Tyson Ross on Monday.
It's a good start in a Rockies uniform for Stubbs, 29, who had chances with the Reds from 2009-12, much of the time as a leadoff man. Going into this year, Stubbs hit .226 with a .296 on-base percentage against right-handers, as opposed to .274 and .349 agianst lefties. He also has batted .245 with a .323 on-base percentage as a leadoff man.
"You take it upon yourself to show what you're capable of doing," Stubbs said. "Any player would say their numbers don't affect how they feel about themselves as a player. That's the case for me right now."
The strikeouts are still high, as has been the case throughout his career -- 11 in 31 at-bats this spring. But Stubbs is hoping to reverse a perception that he should be used only under a narrow set of circumstances.
"I'm feeling more and more comfortable against lefties and righties," Stubbs said. "The last couple of years, in my opinion, haven't been good against lefties or righties, with righties being the lower of the two. But I know I'm capable of hitting either one, and I have at different points in my career. I just have to show everyone I am capable of being just as good on either side.
"As long as I'm sticking to my approach, focusing on taking the ball to the middle of the field or to the right side, for a right-hander it keeps you on the sliders and stuff away. Everybody gets into a little trouble when they get pull-happy. If I stay set in my ways, in my approach, I'll be OK."
The Rockies are intrigued by Stubbs' speed-power combination. He hit 22 home runs in 2010 and has finished in double figures every season since then. Stubbs also stole 30 bases in 2010 and 2012 and 40 in 2011. But the problems reaching base from the leadoff position have limited his running opportunities and made managers rethink whether to put him in that spot.
Manager Walt Weiss is expected to use several players in that spot, whether it's Stubbs, a lefty-hitting outfielder such as Corey Dickerson or Charlie Blackmon, second baseman DJ LeMahieu or outfielder Brandon Barnes. Stubbs isn't campaigning for leadoff at-bats, but he doesn't want to be dismissed from any spot.
"At the end of the day, you try to be consistent, whether that's at the top of the lineup or down low. You're trying to achieve the same things," Stubbs said. "If it's different every day, it doesn't bother or affect me.
"People look at numbers and say, 'You do a good job in 'X' or 'Y' spot,' but I really don't care. The breakdown of all those numbers is not something I pay too close attention to at times. If you've been a guy in my situation and you've hit all up and down the lineup, I would have no idea what my numbers are at the top, middle or bottom."
Thomas Harding is a reporter for MLB.com. Follow him on Twitter @harding_at_mlb. This story was not subject to the approval of Major League Baseball or its clubs.