Rule 5 pick Kahnle still impressing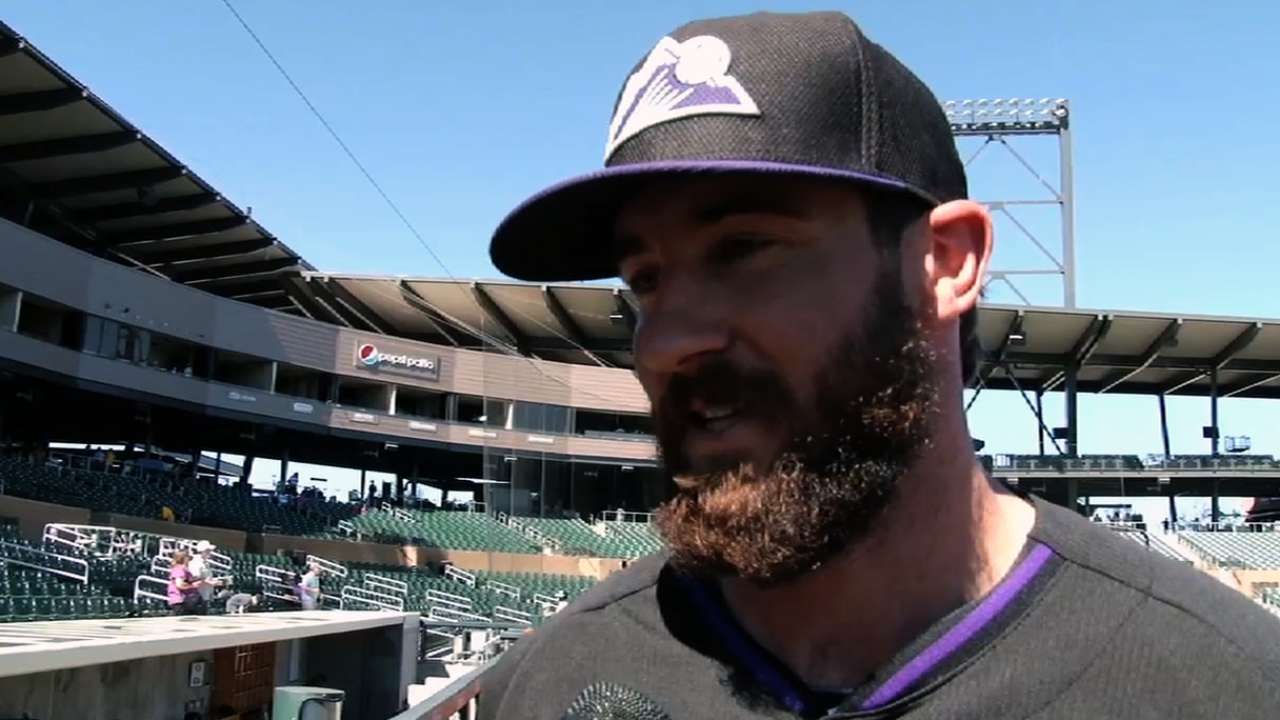 SCOTTSDALE, Ariz. -- Right-hander Tommy Kahnle added evidence Thursday that the Rockies made an astute choice in the Rule 5 Draft in December -- if there's room.
Rockies manager Walt Weiss replaced starter Juan Nicasio with Kahnle, 24, with a runner on third and the score tied in the eventual 4-3 loss to the Brewers. Even more, it was a right-on-left matchup with the Brewers' Lyle Overbay. Kahnle worked ahead with his fastball, and froze Overbay with a changeup for a third strike.
"He's had a good spring," Weiss said. "He's shown a very good changeup. I believe that's what he got him out with. Guys have to gear up for that fastball, and he's been able to get swings and misses with that changeup."
Kahnle, a Yankees fifth-round pick out of Lynn University, had not pitched above Double-A. He had high strikeout totals but also a tendency to walk hitters. Last year at Trenton he struck out 74 and walked 45 in 60 innings. But in Rockies camp, Kahnle has six strikeouts against two walks and has held opposing hitters to a .091 batting average (2-for-22) and posted a 1.35 ERA in 6 2/3 innings.
"I'm having a great time with this," said Kahnle, who has put away the razor since leaving the Yankees and is one of many bearded players in the Colorado camp. "At first it was a nervous time, but now it's the same old baseball. I haven't heard anything. I'm just going out there and pretty much pitching.
"Hopefully, I'm actually what they want."
Kahnle said he has always had the changeup but "it gets kind of overlooked because people expect me to be a power slider guy. Usually, I'm fastball/changeup and I mix in a slider."
Under Rule 5, Kahnle must stay on the Rockies' 25-man Major League roster for the entire season or else the Rockies have to offer him back to the Yankees for half of the $50,000 they paid to make the pick.
The issue is too many right-handers for too few spots. Rockies senior vice president of Major League operations Bill Geivett said in a chat with fans Wednesday that the Rockies wanted to start the year with seven relievers. Right-handers LaTroy Hawkins, Adam Ottavino, Wilton Lopez and Matt Belisle, and left-handers Rex Brothers and Boone Logan are expected to have six spots.
Kahnle has been stellar. However, righty Chad Bettis, another power righty, has been scoreless in six innings with a .167 (3-for-18) opponents' batting average. Bettis can be optioned to the Minors, and could even work as a closer there.
Then there's the situation with lefty Franklin Morales, who could end up in the bullpen if he doesn't win the final starter spot competition with righty Jordan Lyles.
Geivett said in the chat that at times the club could go with eight relievers, but going with eight in the beginning would cost a bench player.
Thomas Harding is a reporter for MLB.com. Follow him on Twitter @harding_at_mlb. This story was not subject to the approval of Major League Baseball or its clubs.