Nicasio hopes to ride split-finger through seventh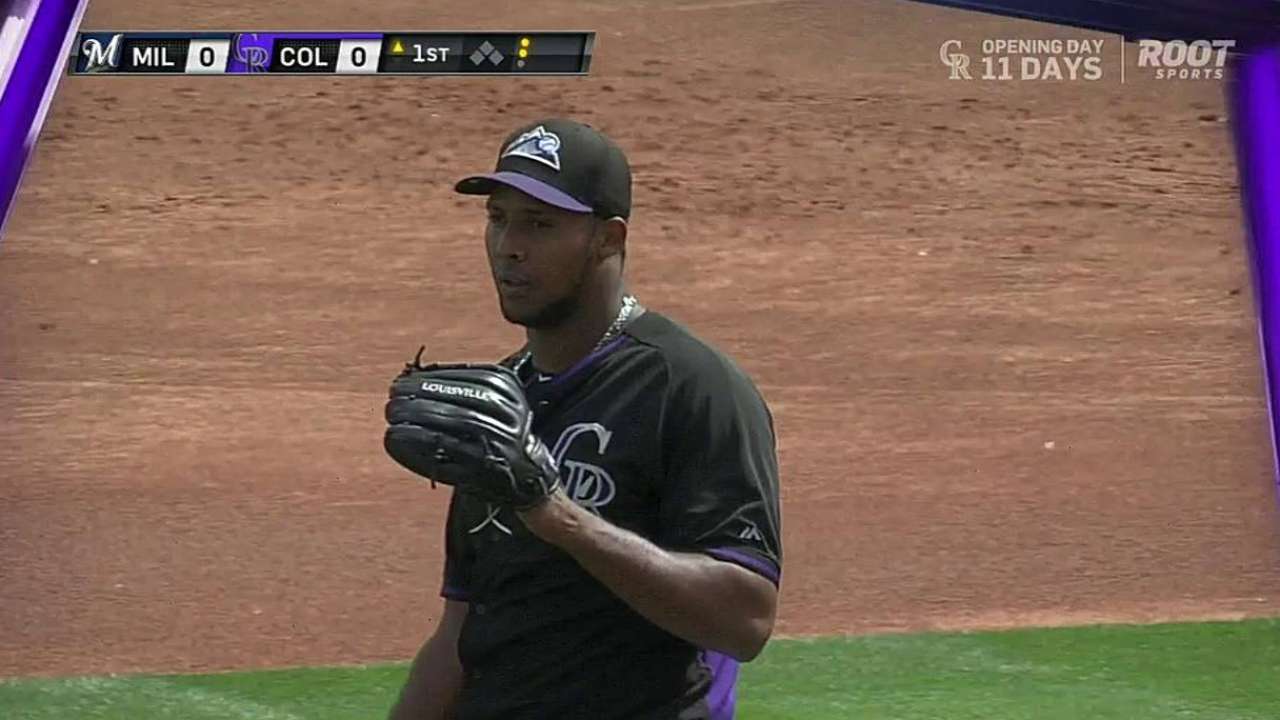 SCOTTSDALE, Ariz. -- The seventh inning wasn't always seemingly guarded with a moat for Rockies right-hander Juan Nicasio.
Nicasio went seven innings four times and eight innings once in his first 13 career big league starts after being called up from Double-A Tulsa in 2011, before he sustained a fractured skull and broken neck when hit by a line drive on Aug. 5 of that year. In 2012, he went seven innings twice and into the seventh inning two other times. But last year in his first full big league season, he completed seven innings just twice and did not get past the sixth in any other of his 31 starts.
But now, Nicasio says, he has the pitch it takes to cross the drawbridge and slay the dragon.
The results were mixed in 5 2/3 innings of a no-decision against the Brewers on Thursday -- three strikeouts, three hits, three walks and three runs. He lost a 3-0 lead by giving up a two-run double with two outs in the fourth, and another couple of doubles led to a tying run in the sixth before manager Walt Weiss removed him with two out and a runner at third.
So is it the same old story? Or did the second inning -- when Nicasio used his new split-finger pitch with confidence to force an Aramis Ramirez fly ball, a Lyle Overbay grounder and a Caleb Gindl strikeout --foreshadow the new Nicasio?
Nicasio said the pitch was not a finished product but that it was effective if he did not try to do too much with it.
"I have more confidence in it because my arm speed is the same as my fastball and my slider," Nicasio said. "Right now I'm concentrating on throwing it down and in the middle and letting it move either way. I know I can make it go to one side or the other by changing the pressure with my fingers, but I don't have that yet. But it works fine when I throw it and let it move."
Nicasio reflects on Aroldis' injury
Any time a pitcher is hit with a line drive, it reminds Nicasio of the Aug. 5, 2011, incident when the line drive from the Nationals' Ian Desmond hit him in the right temple. He sustained a broken neck and a skull fracture, and quick work by the Rockies' training staff, EMTs and doctors most likely saved his life.
So Nicasio could identify with Reds pitcher Aroldis Chapman, who was hit in the face by a line drive on Wednesday night by the Royals' Salvador Perez. Chapman had surgery to repair facial fractures and was ruled to have a mild concussion.
"It's hard whenever I see that, because it reminds me," Nicasio said. "He doesn't have the same thing I did, which is good. I just hope he's going to be OK."
Thomas Harding is a reporter for MLB.com. Follow him on Twitter @harding_at_mlb. This story was not subject to the approval of Major League Baseball or its clubs.