Rockies' Wheeler regaining power stroke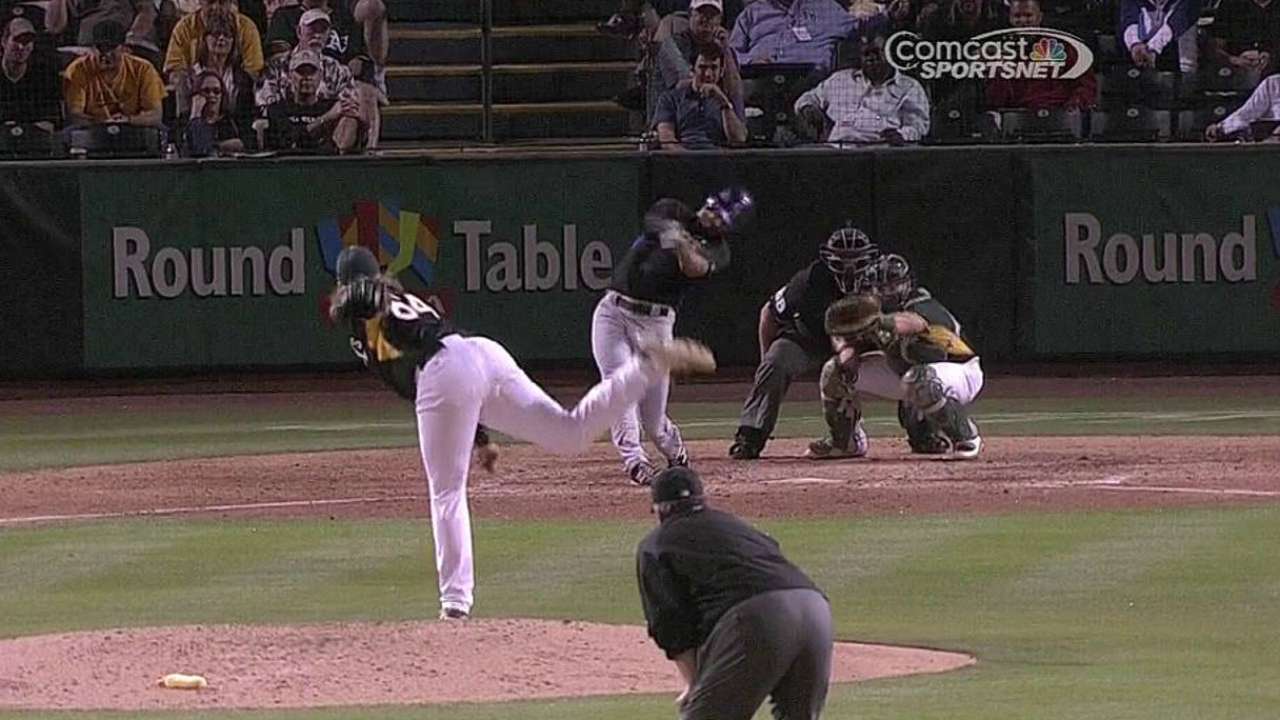 SCOTTSDALE, Ariz. -- Outfielder Tim Wheeler has rediscovered his power and worked his way back into the Rockies' consciousness.
A supplemental first-round Draft pick in 2009, Wheeler hit 33 homers at Double-A Tulsa in 2011 and set career highs in nearly every category. But the power disappeared after he suffered a broken hamate bone in his right hand and missed two months in 2012. After he hit .262 with just five homers last season at Triple-A Colorado Springs, the Rockies removed him from their 40-man roster in November.
On Saturday afternoon, the left-handed hitting Wheeler's fourth home run of the spring -- a three-run shot -- helped the Rockies to a 14-6 victory over the Indians in Goodyear. Wheeler has hit .395 in 38 at-bats.
Wheeler, 26, realizes he's on the outside looking in for the Opening Day roster, but he's gone from non-roster guy to a viable option to help the big club during the regular season.
"It is good for them to see that and know they can depend on me at some point, but I wasn't pressing at all to make that happen," Wheeler said. "There are not a lot of positives that come from pressing, but definitely negatives. Once you realize that, it's a little bit liberating."
The injury led to some bad habits.
"There was no real pain after it was fixed, but there's a period of time where you're building strength and bat speed, and I probably had a problem trying to create it," Wheeler said. "It's kind of a subconscious thing. It wasn't like I said, 'I'm going to go up and hit a homer.' You know it's there, but when you're trying to create it, it usually goes in the other direction."
Glenallen Hill, Wheeler's manager at Colorado Springs, said Wheeler has let go of unnecessary stress.
"It wouldn't matter if it was here or down in player development, he's come into Spring Training finally able to be himself, and not trying to be a .300 hitter, not trying to not strike out, not trying to hit for power," Hill said. "He's totally committed to getting his swing off. What happens after he gets his swing off, just happens. He's freed up in his mind."
Rockies manager Walt Weiss is aware of how far Wheeler has come.
"I'm really proud of the way he's transformed himself," Weiss said. "This guy was a first-round pick and fell on some tough times. He's battled through some things."
Thomas Harding is a reporter for MLB.com. Follow him on Twitter @harding_at_mlb. Jordan Bastian is a reporter for MLB.com. This story was not subject to the approval of Major League Baseball or its clubs.