Blackmon, Dickerson battling for outfield role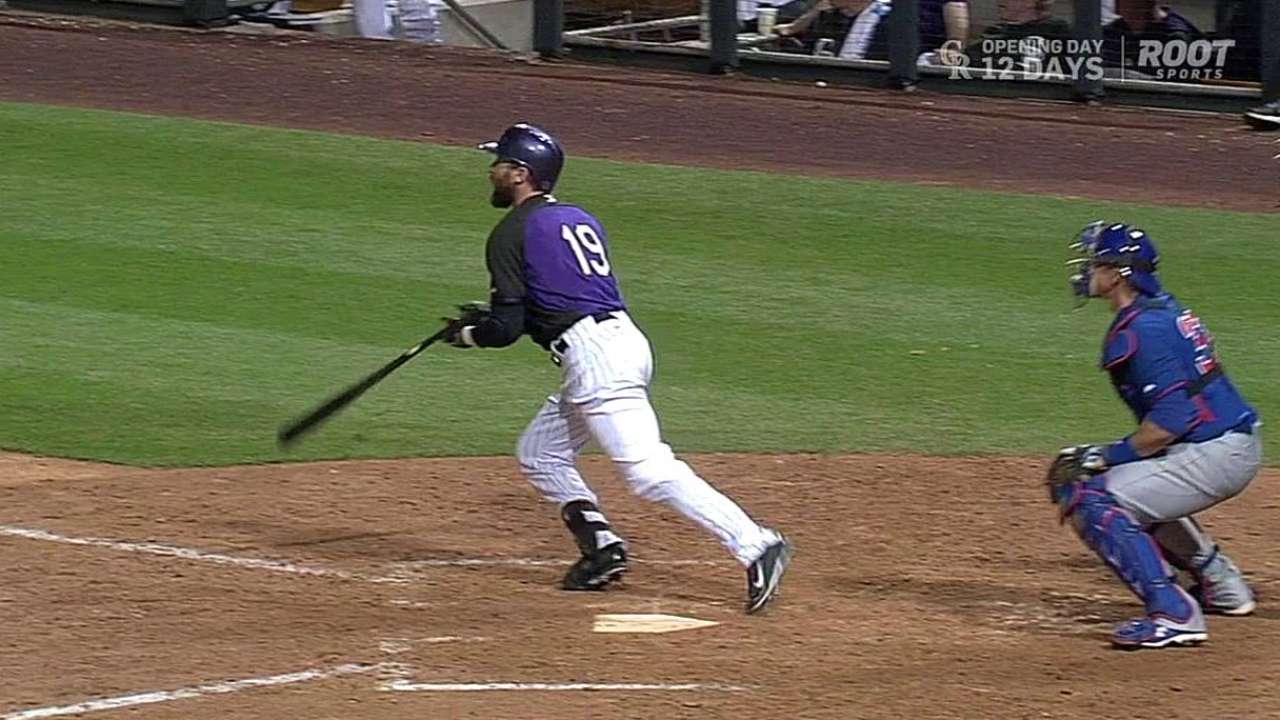 SCOTTSDALE, Ariz. -- Rockies left-handed-hitting outfielders Charlie Blackmon and Corey Dickerson are linked, even if they were miles from one another Saturday.
They're competing for the same roster spot, which entails semi-regular starts, likely from the leadoff spot, in a center-field tandem with right-handed-hitting Drew Stubbs. The one who isn't picked likely will be sent to Triple-A Colorado Springs for regular starts. It appears Brandon Barnes, a right-handed hitter and strong defender, has the inside position for the fifth outfield job.
On a split-squad Saturday, Blackmon started a home Spring Training game and went 0-for-3 with three strikeouts against the Mariners while Dickerson went 3-for-6 with two RBIs against the Indians in Goodyear. In a sense, it was good for both. They're going for the same job, but the reality is all either can do now is prepare for the season.
More importantly, they have to stay sharp during the season, since playing time and even being in the Majors at a given moment is dependent on it.
"I'm not trying to be just a guy who is on the team," Blackmon said. "I want to be a really good player. That's what I'm working toward."
Dickerson said, "They know exactly what I can do. They know exactly what each one of us that's competing can do over a long season. Spring Training is to get ready for the season. It's not describing the player that we are."
Dickerson has the better spring stats -- .354 to Blackmon's .244. But Blackmon, 26, has an experience edge that is not being discounted. He has a .291 batting average and .321 OBP in 151 Major League games over three seasons, the first two abbreviated by foot injuries. Dickerson, 24, debuted last season and hit .263 with a .316 OBP in 69 games.
Blackmon is a natural center fielder, but Dickerson has made strides in his jumps and routes and looks comfortable.
"People always nagged on me about my defense, but I think I've got a pretty good track record and I can play any position in the outfield -- I have the speed and the tools to play it," Dickerson said.
In the best of worlds, both players will end up helping the Rockies this season. The challenge now is to keep that in mind.
"I want all my teammates to do well," Blackmon said. "I'm not really looking outside of myself. I'm trying to focus on what I'm doing, trying to do the best I can. I'm trying to win games and hope my teammates feel the same way."
Thomas Harding is a reporter for MLB.com. Follow him on Twitter @harding_at_mlb. Jordan Bastian is a reporter for MLB.com. This story was not subject to the approval of Major League Baseball or its clubs.