Morales solidifying claim to spot in rotation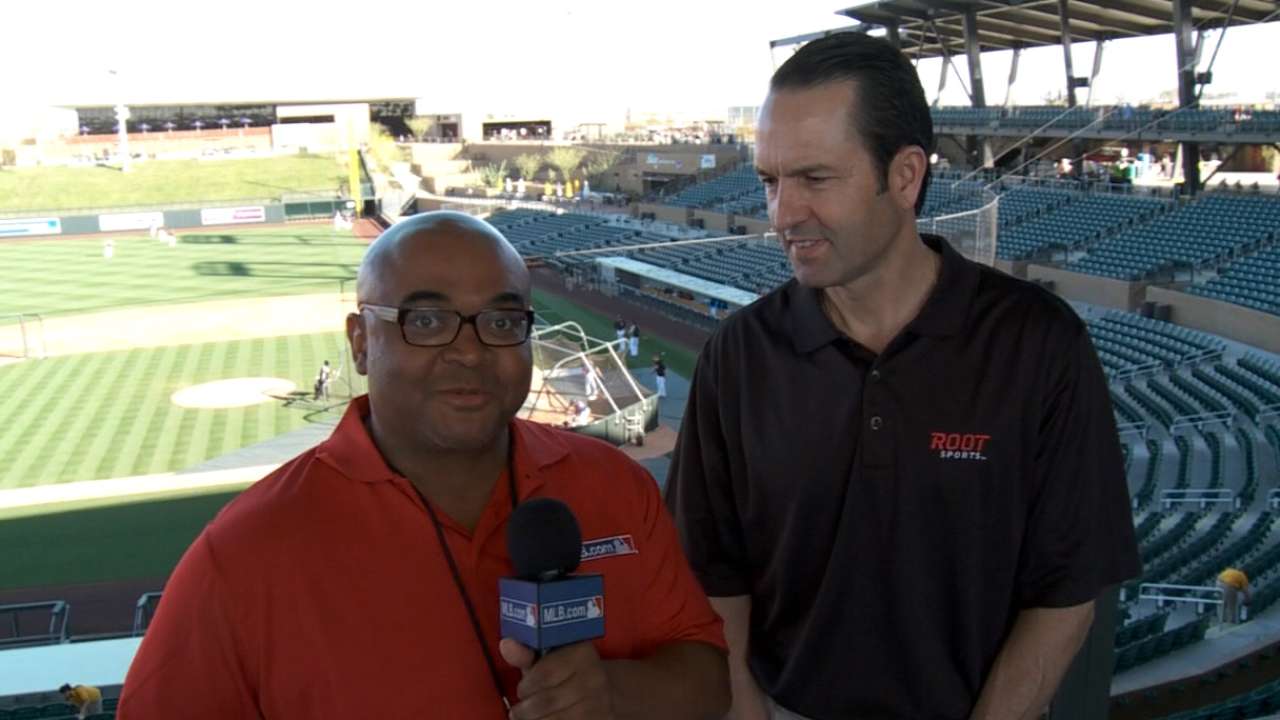 SCOTTSDALE, Ariz. -- Left-hander Franklin Morales found his way back to the Rockies through a confluence of needs. But through hard work and study, Morales just might have found his way back to the starting rotation after the better part of five years in the bullpen.
Morales broke in as a starter with the Rockies in 2007, was converted to relief in '09 and pitched primarily in relief after the club traded him to the Red Sox for cash considerations in '11. But the Red Sox sent him back to Colorado, along with reliever Chris Martin, during the winter for infielder Jonathan Herrera.
Morales, 27, received a chance at the steady rotation job he has always wanted, and Monday's five strong innings in an 8-2 victory over the Royals moved him closer to it. Morales struck out seven, gave up three hits, a walk and an unearned run. He threw four-seam and two-seam fastballs where he wanted, and baffled hitters from both sides of the plate with his cutter and curveball. He has a 2.21 spring ERA.
"I had all my pitches together, I mixed it up," Morales said. "I don't think about it. I don't want to put too much pressure on me. I'm going to pitch my game and make my pitches. Wilin [Rosario, the catcher] called a good game. I have good communication with him and we mixed it up, both sides of the plate."
Morales told his agent before the trade he'd like a chance to start again, and it so happened the Rockies made the deal and were willing to give him the chance -- knowing he could also go to the bullpen. Morales is competing with righty Jordan Lyles, who has a 3.18 ERA in six appearances and will throw again Saturday against the Mariners in the final Spring Training game. Morales also is on the roster for that day.
Morales pitched in his native Venezuela during the winter to further develop his pitch repertoire.
"In Venezuela with Jesus Hernandez, my pitching coach, I worked on my tempo to throw my pitches in any count, and I learned my cutter from Gary Tuck, my pitching coach from Boston from two years ago," Morales said. "Last year, I put it in the game and this year I went to Venezuela to winter ball and I used it more to get confidence. Before I threw the cutter backdoor, now I use it on both sides."
Manager Walt Weiss is dealing with a myriad of roster decisions. Putting Morales in the rotation could open a spot for one of the deserving relievers. But if Boone Logan has to begin the year on the disabled list for a few days as his left elbow completes its recovery from offseason surgery to remove bone chips and shave a bone spur, the Rockies will have to decide if they're comfortable with Rex Brothers as their only left-hander.
But Morales' performance is speaking loudly.
"In some of these decisions, it's not always just player-to-player, who won. We've got to take into consideration design of the club and how the pieces fit, but he's made a case for himself," Weiss said. "He wanted to come in and compete for a spot, and he's performed.
"He made pitches [Monday] to get outs. Even at times when he may have missed his location, he'd get right back in the count by making a pitch. It never got away from him."
Thomas Harding is a reporter for MLB.com. Follow him on Twitter @harding_at_mlb. This story was not subject to the approval of Major League Baseball or its clubs.