Rockies facing some tough roster decisions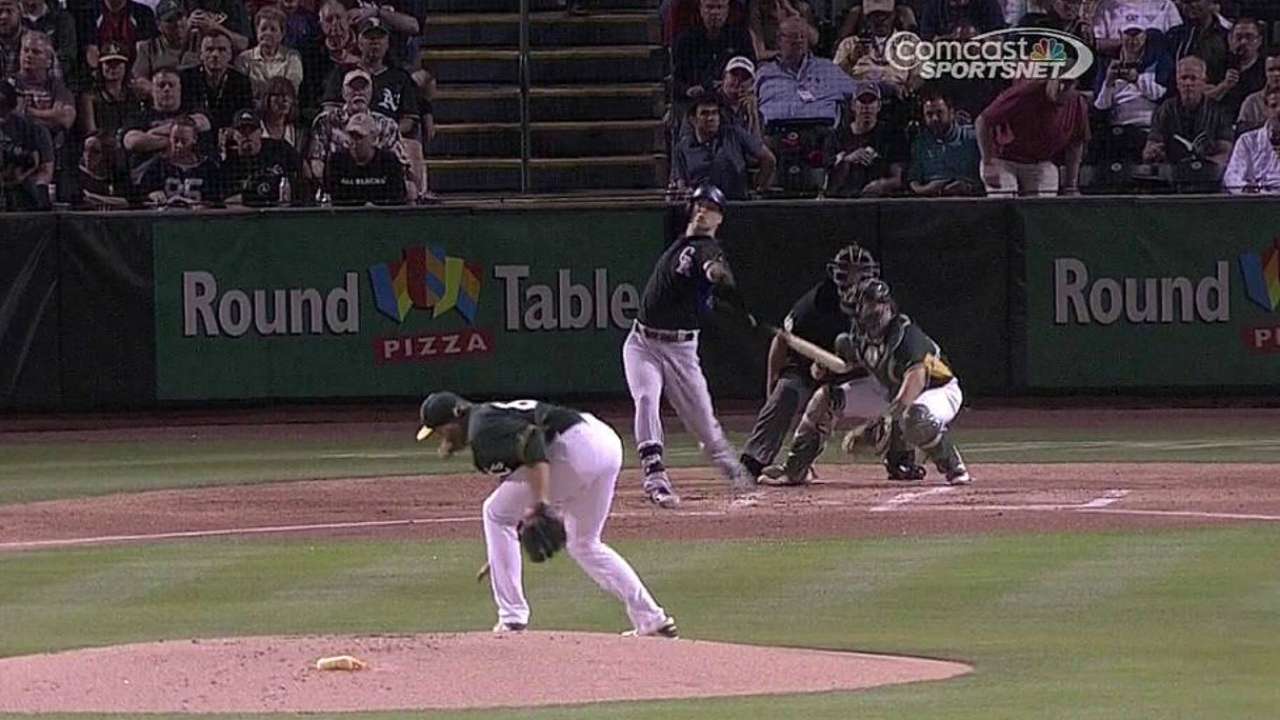 SCOTTSDALE, Ariz. -- Corey Dickerson started the final week of Spring Training by making a big impression, delivering a double and a stolen base, and making a leaping catch against the center-field wall for the Rockies in an 8-2 victory over the Royals on Monday.
Charlie Culberson went 1-for-2 and played a solid game at second base as he tries to close in on a backup infield job. Tommy Kahnle, a right-handed reliever who came from the Yankees in the Rule 5 Draft, had his first two-inning appearance and threw scoreless innings with two strikeouts to lower his spring ERA to 0.93. And don't forget Ryan Wheeler, who homered in the eighth for his eighth extra-base hit this spring as he tries to forge a spot for himself as a corner infielder and late-game left-handed bat.
In other words, decisions are getting tough.
Does Dickerson get the job as a left-handed hitting center fielder, which would send Charlie Blackmon (0-for-3 Monday to drop his average to .229) to the Minors -- even though Blackmon has more big league experience and better numbers? Did right-handed-hitting outfielder Brandon Barnes, who was overlooked coming into camp but has played his way into what looks like a sure roster spot, play himself into starting opportunities even though the Rockies have the more experienced Drew Stubbs?
Culberson (.279), Wheeler (.353), Josh Rutledge (.303) and non-roster invitee Paul Janish (.429) all have attributes that could put them on the team, but it appears there are only two backup infield spots. Janish also could end up being picked up by another team with a 25-man roster hole and not so many candidates.
Kahnle's case is most vital, since if he isn't kept on the 25-man roster all year he has to be offered back to the Yankees for $25,000. If lefty Franklin Morales makes the rotation -- and his five innings with seven strikeouts and one unearned run on Monday help his cause in a competition with righty Jordan Lyles -- will there be a spot for Kahnle in the bullpen? Even then, does lefty Boone Logan, who is coming off an elbow cleanup operation, have to start on the disabled list for there to be room for Kahnle?
Is it overall spring performance, or does a manager avoid being fooled by a spring and go by track record? Is it playing the hot hand at the end of spring? How much of the decision is based on Minor League options, which allow teams to hold onto players they can call up later?
"We look at the season with the bigger-picture perspective," manager Walt Weiss said. "It's not like who we break camp with, that's how it is for the rest of the season. We make these decisions understanding there's going to be an evolution of the roster. Needs are going to change. The design of the club is going to change from time to time."
Thomas Harding is a reporter for MLB.com. Follow him on Twitter @harding_at_mlb. This story was not subject to the approval of Major League Baseball or its clubs.