Nicasio eager to prove durability over complete season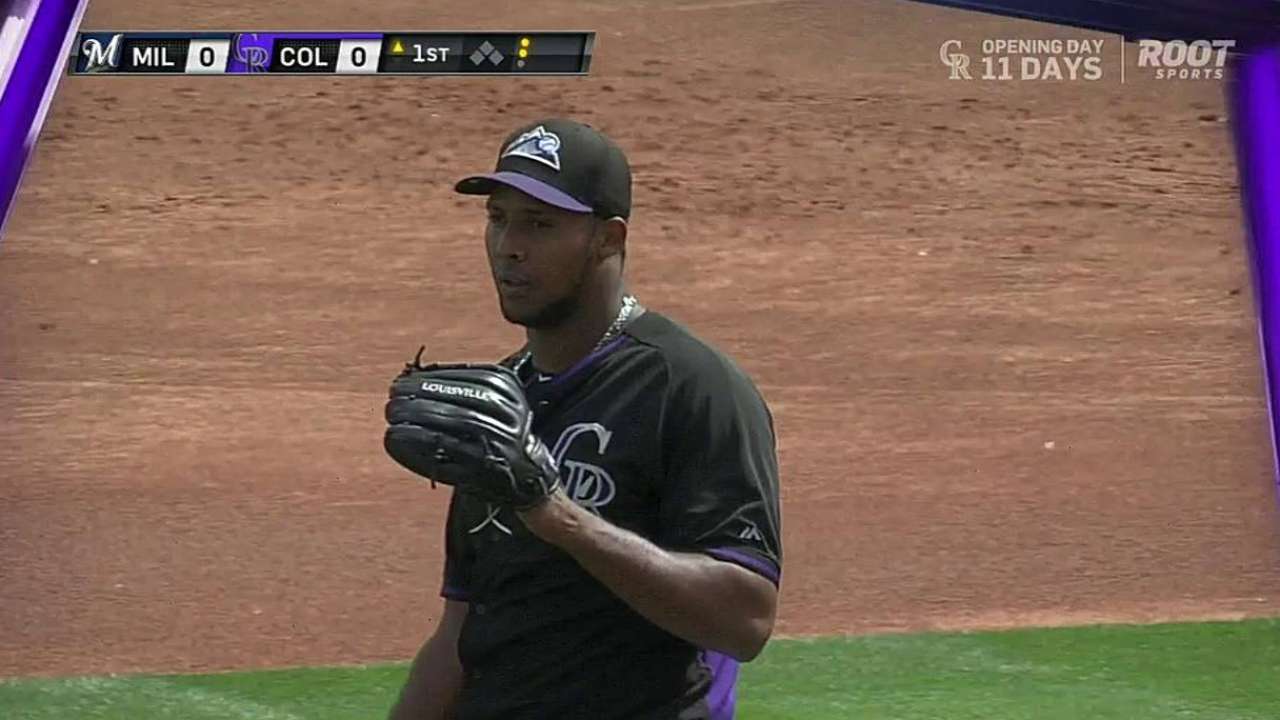 GLENDALE, Ariz. -- Rockies right-hander Juan Nicasio has heard all he cares to about a lack of durability. Only in the regular season can he answer.
He put an exclamation point on a strong Cactus League season with five no-hit, seven-strikeout, one-walk innings in a 4-1 victory over the White Sox on Tuesday afternoon.
Of course, he could have gone longer if not for a damaged nail on his right middle finger. But Nicasio said he's dealt with it before and it's not a lingering problem. And fingernail problems aren't the issue.
Coming off two seasons of injuries, Nicasio made it past six complete innings just twice in 30 starts last season. Until he can get deep in games without a blowup that shortens the duration of his starts, the criticism will linger. But if the beginning of an answer is being sick of the question, Nicasio is ready for his reply.
"A lot of people talk too much about me, like, 'He throws four innings, five innings,' something like that," Nicasio said. "I'll show everybody, every day. I want to throw 200 innings, something like that. It's like my dream, throw 200 innings in the Major Leagues."
If he reaches that point, as a power fastball pitcher with a slider and a new split-finger pitch that he hopes will increase his innings, the Rockies just may have a realistic dream of contending. Even with his lack of length and 5.14 ERA, Nicasio managed a 9-9 record, and went 5-1 with a 3.09 ERA in 13 starts within the National League West.
One can't blame him for being happy to be there, after being hit in the head by a line drive in 2011, sustaining a left knee injury in 2012 and pitching through lingering knee pain last season. But he speaks like a man who wants more. Manager Walt Weiss believes health will take care of everything.
"I don't know if he has a chip on his shoulder or what it is, but he's healthy for the first time in a while," said Weiss, who said the fingernail should not affect Nicasio's next start, on Sunday against Minor Leaguers. "He wants to show who he really is. I think that's the bottom line with Juan. It's hard to compete in this league when you're not healthy."
Weiss and Rockies senior vice president of Major League operations Bill Geivett said repeatedly during the offseason that they believed Nicasio would justify why he was brought to the Majors from Double-A in 2011 by becoming a successful power pitcher. The organization's thought was the injuries have held him back from developing the third pitch that it takes to make it through an order three times.
It appeared the Rockies were hedging their bets, however, when they announced before camp that Nicasio had to compete for his spot. Alas, righty Jhoulys Chacin experience a right shoulder strain that could keep him out until anywhere from late April to the middle of May.
Still, Nicasio has pitched as if folks were breathing down his neck. Tuesday's performance ran his strikeout total to 23 against six walks and lowered his batting average against to .171.
"Walt, 'Givo,' they believed in me because they gave me the opportunity," Nicasio said. "I needed to show I believed in me, too. I needed to work hard and show everybody they're right."
Thomas Harding is a reporter for MLB.com. Read his blog, Hardball in the Rockies, and follow him on Twitter @harding_at_mlb. This story was not subject to the approval of Major League Baseball or its clubs.