LaTroy and Rex, brothers in bullpen arms
Hawkins taking over as closer, but both pitchers getting along great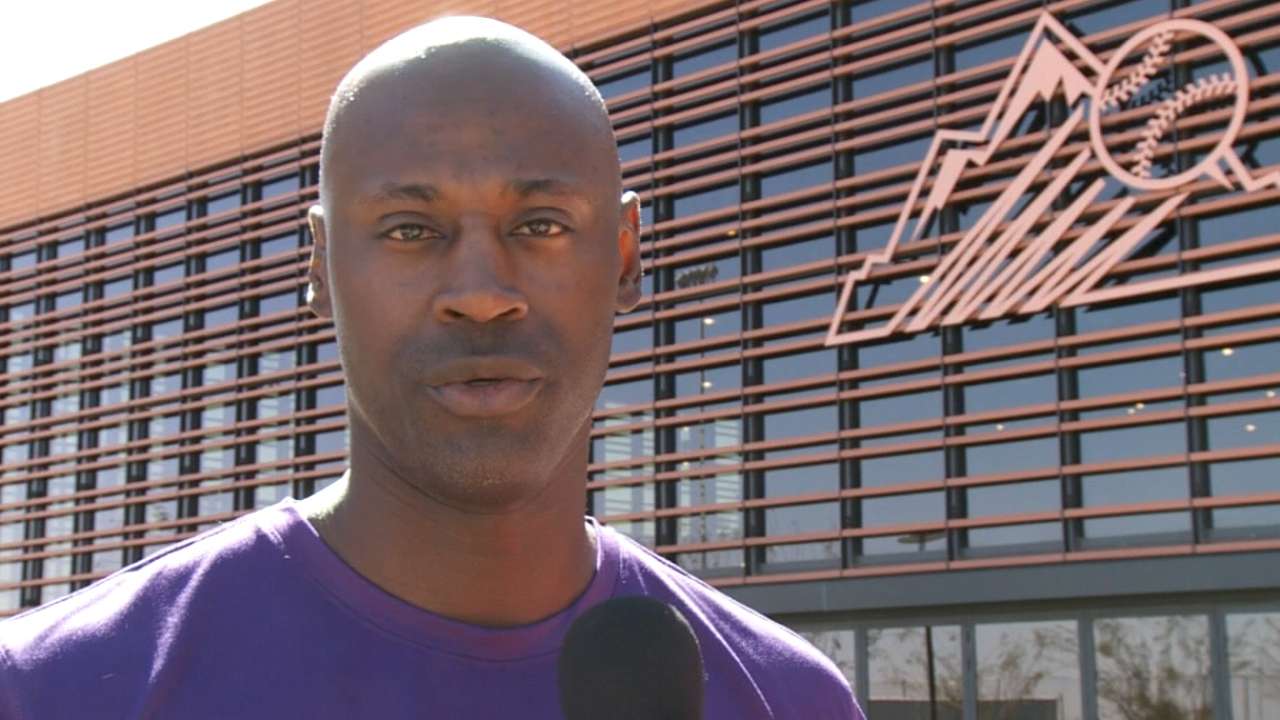 SCOTTSDALE, Ariz. -- There hasn't been a single hard feeling between Rex Brothers, who finished last season as the Rockies' closer, and LaTroy Hawkins, signed for the job this year.
Hawkins quickly tried to make sure there were no hard feelings or misunderstandings, not that there was any worry about two guys cut from the same whatever-it-takes cloth.
"We played phone tag -- the whole offseason, literally," Brothers said. "It was back and forth for a month. Then we exchanged texts for about a month. When we both got here, we both laughed. He said, 'Tag, you're it.'
"I don't think there's any ego involved. The common ground is we want to work collectively as a bullpen to help the team win as many games as we can."
Brothers, 26, with a heavy fastball and slider, earned 19 saves last season while Rafael Betancourt dealt with various injuries. Hawkins, 41, with the hard slider of a younger man, earned 13 saves for the Mets after taking the job in August.
The role isn't as cut-and-dried as it sounds. Manager Walt Weiss has said all along he can use Brothers in the ninth depending on the matchup. With lefty Boone Logan, in the final stages of recovery from an offseason elbow cleanup surgery, and young, hard-throwing righty Chad Bettis looking as if he'll be part of the late bullpen, Weiss can play matchups until the end of the game without having a true closer.
"I'm not a title guy -- I don't care about a title," Hawkins said. "When I pitched in the sixth inning, I was the closer for the sixth inning. When I pitched in the seventh inning, the eighth inning, I was closer for that inning. All bullpen guys have to have that mentality. You're the closer when it's time for you to do your job. The only thing is the last guy doesn't get to pass the baton. The other guys get to pass the baton."
Deep down, Hawkins believes, as the season progresses, Brothers will emerge as the chairman of the closer committee. The two have become close once they finally met face-to-face.
"I love him," Hawkins said. "He's got a great arm. I've been saying it from Day 1, I'm just keeping that seat warm. That's all, just keeping it warm. When he's ready, I'll give it to him. That's Brothers' inning. He has way more years doing that job than I do."
Thomas Harding is a reporter for MLB.com. Follow him on Twitter @harding_at_mlb. This story was not subject to the approval of Major League Baseball or its clubs.