Dickerson sent to Triple-A to get regular at-bats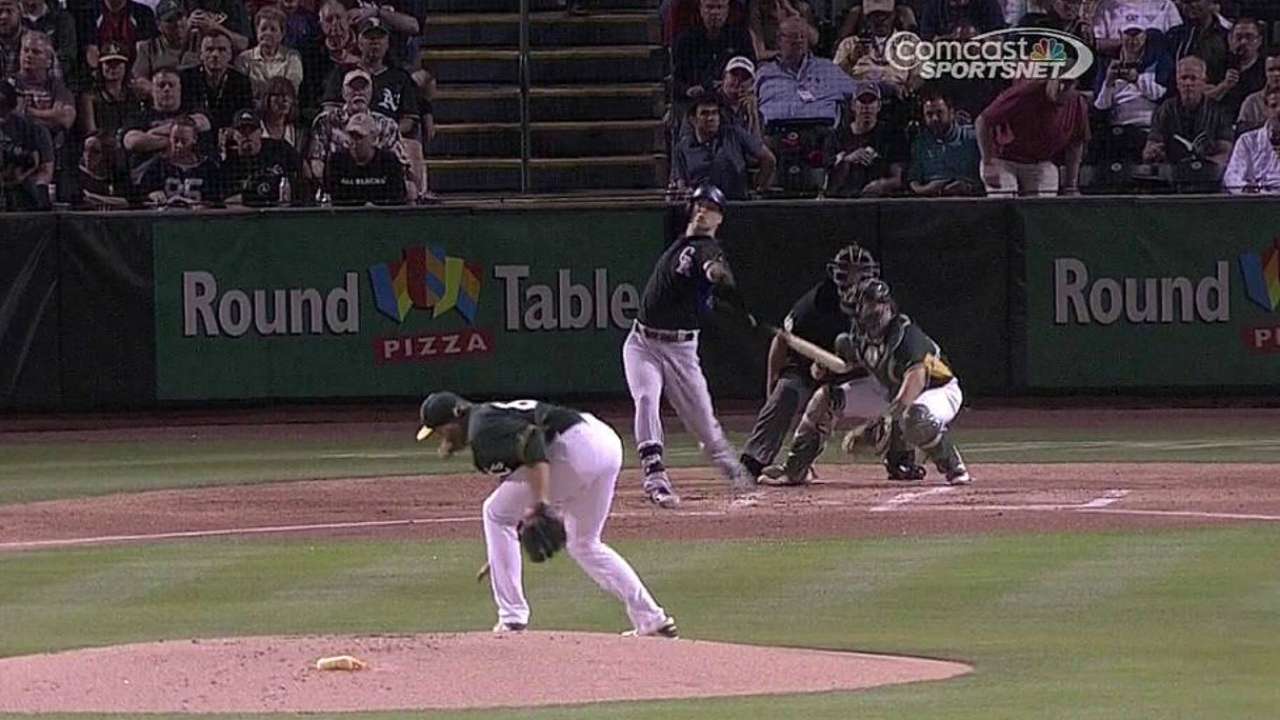 DENVER -- Before receiving the bad news of his being optioned to Triple-A Colorado Springs, outfielder Corey Dickerson tweeted out his wonderful news:
"So happy to announce the new blessing that we are expecting in October!"
At the time Dickerson sent the tweet, he expected the Rockies to send him down as a corresponding move to activating left-handed pitcher Boone Logan from the 15-day disabled list.
Charlie Blackmon hit .542 through the first week of the season, and there simply weren't at-bats for Dickerson. He was 1-for-5 with a walk, and appeared in just three games. Going to Colorado Springs will offer him regular playing time.
"Right now, getting at-bats is the most important thing, and if injuries happen, I'll be able to step in and play every day," Dickerson said. "For right now, as they've said, there will be a lot of these moves for a lot of guys when they have to fill a pitcher in here, fill a position player in here. I'm a young guy, the youngest outfielder, one of the youngest position players. I'm not going to stress over it. I'm going to go there, have fun like I always do and help them win."
So happy to announce the new blessing that we are expecting in October! pic.twitter.com/HBDfe0vBmi

- Corey Dickerson (@MCoreyDickerson) April 7, 2014
Logan becomes the club's 13th pitcher. Manager Walt Weiss said at times this season the Rockies will carry 13, usually during long homestands. This is not one of them, but the club will have to make a move with pitching soon. Right-handed starter Tyler Chatwood will throw an injury rehab game on Tuesday, and is expected to return from his left hamstring injury on April 13 in San Diego.
"It's going to be a fluid roster throughout the season," Weiss said. "That's just how we sit today, with 13 pitchers. We ended up sending Corey out, but it gives him the opportunity to go down there and get some consistent at-bats. Corey is going to be a big part of this ballclub this year and beyond. I think he's going to be a big part of the reason why we win here."
The Rockies tried using six outfielders to start the season, but Blackmon caught fire and there wasn't playing time for for Dickerson, who hit .344 in Spring Training.
"He's a really good hitter," Blackmon said. "That's the hardest thing to do in baseball, and he's only 24. So I'm not worried about Corey one bit. He's a great player. He's going to continue to be a great player. He'll be back at some point, and he's going to play well."
Weiss is trying to turn roster challenges into advantages for the Rockies.
The bullpen struggled during the first series in Miami and could use an extra arm. However, on nights like Monday when the regular lineup is used, there isn't a left-handed bat on the bench.
"It's a tradeoff because your bench is a little shorter as far as weapons late in the game, but it protects your pitching," Weiss said.
Thomas Harding is a reporter for MLB.com. Follow him on Twitter @harding_at_mlb. This story was not subject to the approval of Major League Baseball or its clubs.