Cautious Tulowitzki able to remain in lineup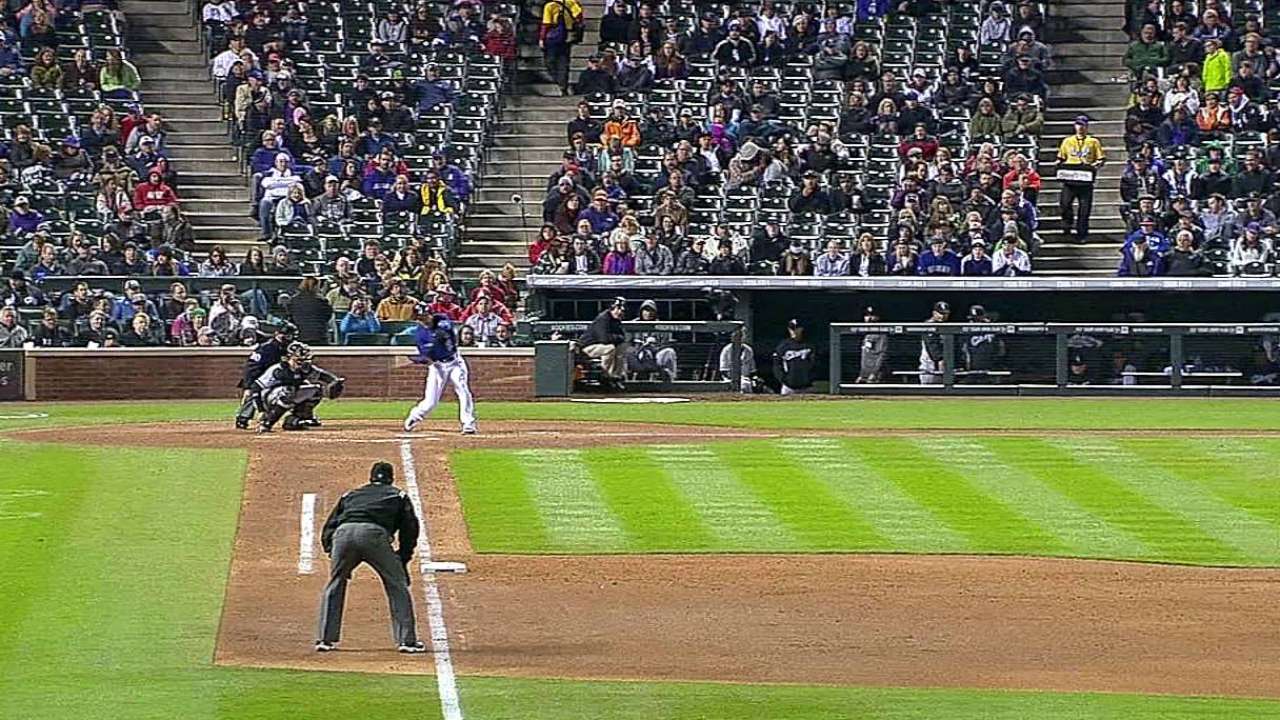 DENVER -- Rockies shortstop Troy Tulowitzki was cold and his right quadriceps was tight Monday night when he had a brief conference with head athletic trainer Keith Dugger about whether to stay in the game. But Tulowitzki also was a triple away from the cycle.
Yeah, right.
"That's funny," Tulowitzki said. "I went up to [Dugger] after my home run and he knew my quad was tight. I told him the chances of me getting a triple are below zero percent."
However, by resting the final two innings of the 8-1 victory over the White Sox, Tulowtizki assured himself of being in the lineup Tuesday night.
"I feel all right," Tulowitzki said before the game. "My leg is a little tight. That's why I came out early last night. The weather had done a little bit to it. It was just a little fatigued."
The Rockies pulled Tulowitzki from a lopsided game Friday, rested him the entire day Saturday and rested him at the end of Monday's blowout. Get used to it, since the Rockies understand Tulowitzki's history of leg muscle injuries, and they realize that they've contended or gone to the postseason when he's been largely healthy. They're also keenly aware of a schedule that has them playing 40 times in the first 42 days.
Tulowitzki, 29, experienced a left quadriceps tendon tear in 2008, missed four games with strained quadriceps before the 2011 All-Star Game but didn't need to go to the disabled list, and was limited to 47 games in 2012 and underwent surgery to remove scar tissue from his left groin. These and other injuries, such as two hand/wrist injuries and broken ribs last year, have curtailed Tulowitzki's availability over the years.
The right quadriceps that's bothering him is new, which means at least it's not a recurrence of past chronic issues. Tulowitzki said he has been dealing with the tightness since Opening Day, when he extended at first base trying to beat out an infield grounder. It was the only game in which he didn't manage a hit going into Tuesday night.
"Early on in the year in Miami, and Opening Day, I was feeling a little bit too good," Tulowitzki who went 1-for-3 with a double and two RBIs in Tuesday's 15-3 loss, said. "I have to remind myself of a good pace, staying under control. I think I get caught up in the game sometimes and want to go back to those days when you play the game all out as a kid. Sometimes that hurts me."
Manager Walt Weiss said he checks in with Tulowitzki daily. Last season, the two developed a rapport that allowed Tulowitzki to speak honestly, and he was able to ride through some leg muscle tightness early. None of that prevented the rib break, but they were successful with the traditional trouble issues.
"I check in with all of them, but Tulo, specifically, just because he's had some history," Weiss said. "It's my job to keep these guys fresh and give them a day here and there."
With the Sox using left-hander Jose Quintana and Weiss trying to find rest spots in the schedule, the Rockies rested left-handed hitters Gonzalez and center fielder Charlie Blackmon. Weiss put Drew Stubbs in center and at leadoff, Brandon Barnes second in left, moved Tulowitzki up to Gonzalez's third spot and shifted usual No. 2 hitter Michael Cuddyer to cleanup. Also, Charlie Culberson started at second and batted eighth, replacing DJ LeMahieu.
First baseman Justin Morneau and pitcher Franklin Morales were the only lefty swingers in the lineup.
Thomas Harding is a reporter for MLB.com. Follow him on Twitter @harding_at_mlb. This story was not subject to the approval of Major League Baseball or its clubs.