Rockies taking look at Arenado in No. 2 spot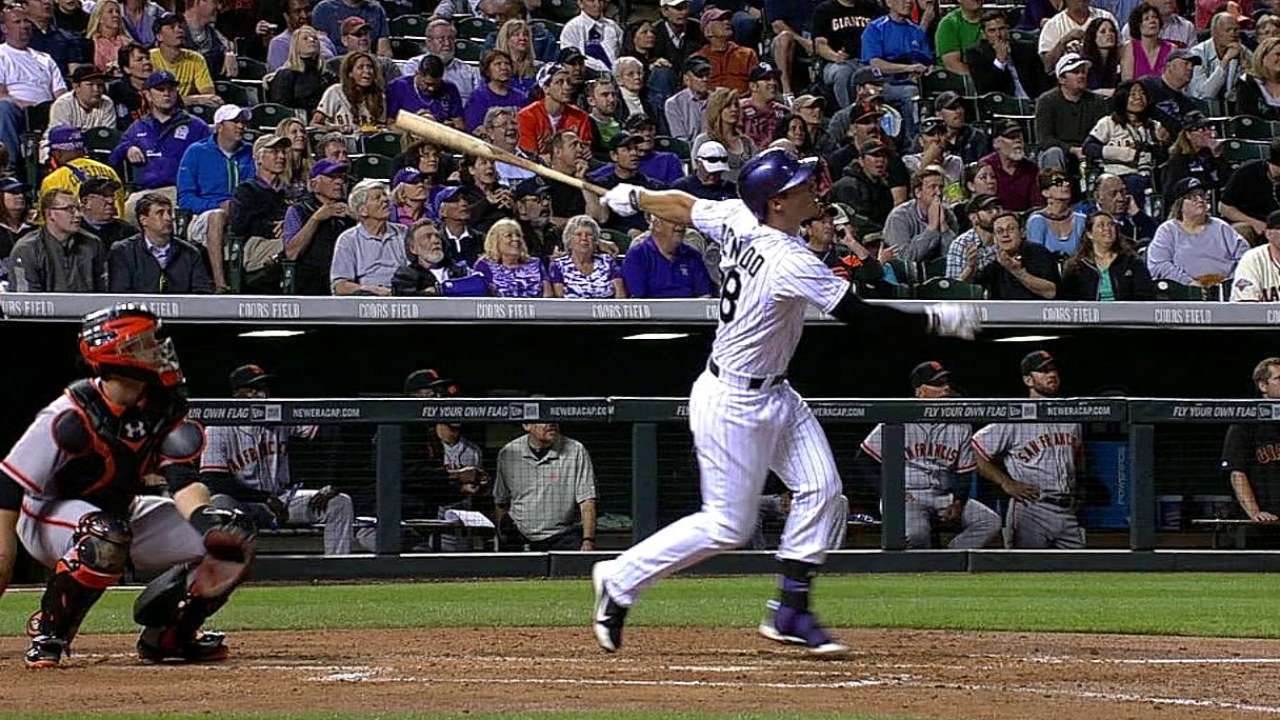 DENVER -- Nolan Arenado has spent nearly two weeks being a headache for pitchers who already were dealing with strength in the top half of the Rockies' lineup. Now, with Michael Cuddyer on the 15-day disabled list, it appears Arenado will have chances at the No. 2 slot.
Arenado, who extended his 12-game hit streak with a home run in his first at-bat in the second spot Monday night, giving the Rockies a 1-0 lead against the Giants at Coors Field. He looked forward to hitting ahead of Carlos Gonzalez and Troy Tulowitzki but said he would not change his style.
"I try not to put too much into it," Arenado said. "I'm going to try to do the same as I do at seventh, just try to do my job. If anything, what may be a little different is I might be hitting with two outs all the time or leading off an inning. That could make things a little more comfortable.
"Who knows? I've just got to battle. Having 'CarGo' and 'Tulo' behind me, I don't want to put too much into that. The Giants know me and they know how I hit. It's not going to make that big of a difference."
It was his ninth career start and first this season at the second spot. He has batted fifth, sixth and seventh this season. Since drafting him in the second round in 2009, the Rockies have looked at him as a possible big-time contributor in the upper part of the lineup.
One reason the Rockies are OK with Arenado filling Cuddyer's spot, despite having recently turned 23, is his ability to handle responsibility without wilting.
"He's a baseball player," said manager Walt Weiss, who went with Drew Stubbs in the second spot Friday and Saturday, and Brandon Barnes on Sunday. "He's not worrying about where he's hitting in the lineup or anything like that. It's no big deal for Nolan."
All has not been easy. After posting a low strikeout rate last year (72 in 486 at-bats), he has fanned 13 times in 78 at-bats this year and walked just once. Still, he entered Monday with a .295 average with two home runs, five doubles and 11 RBIs. He struck out six times during the 11-game streak going into Monday, but his 16 hits (four doubles) help offset those.
Tulowitzki, who has helped Arenado by lending tips on studying pitchers, said it's a chance for Arenado to prove he can maintain performance when more is asked of him.
"He's making strides in the right direction," Tulowitzki said. "That's all you can ask of a young player. I think it's a big step for him, a chance to really make his impact on the team and in the lineup. Hopefully, he understands his job is to get on base. He's a good player, he's going to be great, and hopefully this helps him."
Arenado's intention to maintain his approach at No. 2 sounds much like the approach Cuddyer had when moving from the middle of the lineup last year to No. 2 this season.
"The big thing is not trying to conform to where you are in the lineup," Cuddyer said. "It's the manager's job to put your skill set in a position in the lineup that he thinks is going to benefit the team. It's not the player's job to conform to that lineup spot. 'Skip' has confidence that what Nolan brings to the plate is good for a No. 2 hitter."
Arenado said, "I have an approach right now, and if it's working I don't need to change too much of it."
Thomas Harding is a reporter for MLB.com. Follow him on Twitter @harding_at_mlb. This story was not subject to the approval of Major League Baseball or its clubs.