Blackmon swinging hot bat in leadoff role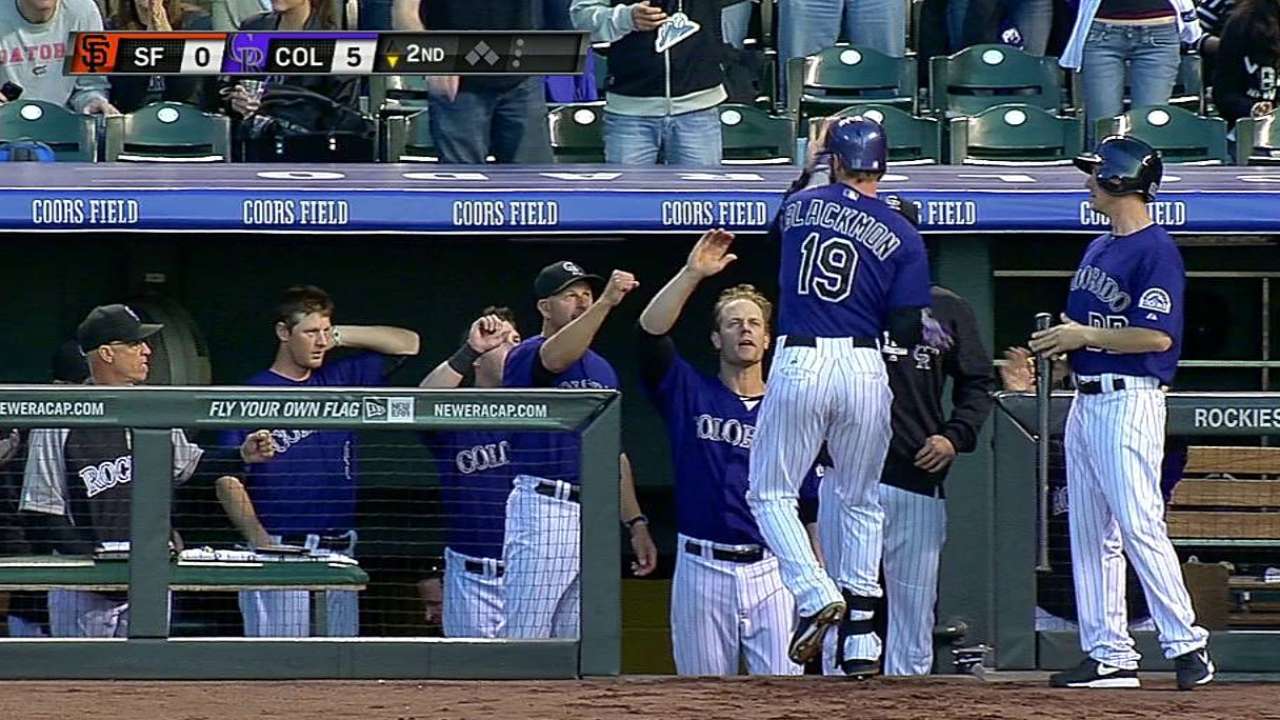 DENVER -- As last season ended, Rockies manager Walt Weiss told outfielder Charlie Blackmon he wanted him to prepare to be a leadoff hitter.
It turns out that with Blackmon making a slight modification to his approach, Weiss has found a good place for Blackmon's skills, and Blackmon has found a home.
Going into Tuesday night's game against the Giants, which Blackmon didn't start against tough left-hander Madison Bumgarner, Blackmon led the National League with a .411 batting average and at 1.121 was third in the Majors in OPS (on-base plus slugging percentage) behind teammate Troy Tulowitzki (1.131) and the Braves' Freddie Freeman (1.125).
"It's something that maybe right out of the gate I'm not completely comfortable with, but on the other hand, it's one of the more important positions in the lineup," Blackmon said. "We've got a lot of really good hitters in the lineup in the middle of the order, so it's important for that guy to be on base.
"That's a thing I've embraced. I've kind of taken it as a personal challenge, to be on base, to work counts, to get some hits, create some traffic for those big swingers behind me."
Blackmon has done more than reach base. He hit two home runs in Monday night's 8-2 victory over the Giants to raise his total to four. The only player with more from the No. 1 position going into Tuesday was the Brewers' Carlos Gomez, with five. His .442 leadoff on-base percentage is the highest of anyone with at least 70 leadoff at-bats, and his 15 runs are tied for third-most.
Before this season, Blackmon had a .291 batting average but an un-leadoff-like .321 on-base percentage in parts of three seasons (in and around foot injuries and Triple-A stints).
Still, after the Rockies moved erstwhile leadoff hitter Dexter Fowler (receiving outfielder Brandon Barnes and pitcher Jordan Lyles from the Astros), Weiss quietly believed Blackmon would work at No. 1. In addition to his hitting, Weiss saw speed that had been obscured by foot injuries in 2011 and '12.
"I don't think he had to modify a whole lot -- the skill set was there," Weiss said.
Blackmon said the biggest adjustment has been patience. Blackmon is seeing 3.86 pitches per plate appearance overall, 3.79 as a leadoff man. The leadoff P/PA is 59th among leadoff men in the Majors (some with limited plate appearances). Still, this year's numbers are higher than his 3.63 P/PA from last season. It's early, but if his increases hold over a long period, they would be considered healthy, even if he's doesn't rank high among leadoff men.
His approach is to see pitches, but he doesn't want to lose aggressiveness.
The balance was at work Monday night. His first home run came after he worked a 2-1 count against Ryan Vogelsong, and his second came on Juan Gutierrez's 0-1 pitch.
"I honestly think [being a leadoff man] fits pretty well," Blackmon said. "I like to have at-bats where I see a lot of pitches. I like to feel comfortable deeper in the count. But I like to not necessarily have to do that if I don't want to. I like the luxury of being able to swing early in the count, which sometimes I feel like you can't do in the leadoff spot."
Thomas Harding is a reporter for MLB.com. Follow him on Twitter @harding_at_mlb. This story was not subject to the approval of Major League Baseball or its clubs.